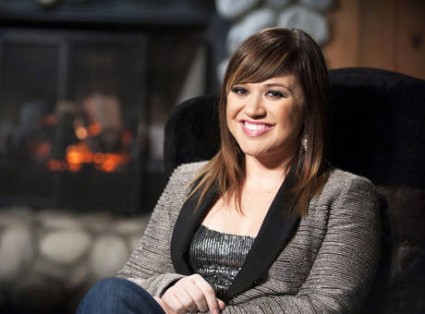 I really like Kelly Clarkson. She seems like a good egg. But since the beginning of Duets, I've been worried about her two amateur choices in this competition. Jordan (the uber fan of Kelly's) and Jason were the two youngest. They both have terrible cases of nerves while performing. Yes, they're good. But tonight I think Kelly messed up in their song choices.
That's why both of them ended up "singing for their lives." (Oh good golly, someone please save me from that expression.)
See, it's like this. Kelly let Jordan pick her song. She chose "Take My Breath Away." (The theme being movie week.) Don't get me wrong. It's an okay song. But sung as a duet between two girls? It didn't feel right. And I have to say that all along this chick's crush on Kelly has been so evident that it makes me squirm in my comfy blue armchair a bit. You can definitely see Jordan's obsession with Kelly coming out of every hole in her face, for goodness sakes.
Not that there's anything wrong with that. It's just very strange trying to watch her please the most important person in her (fantasy) life week after week. I'm almost glad that Jordan was eliminated so I don't have to witness her chasing rainbows anymore.
When Jordan sang "You're Gonna Love Me" in the final sing off against fellow teammate Jason? Her biggest mistake was that it wasn't believable. That song should ooze out your pores when you sing it. This was a timid performance. Don't choose that song to "save your life" if you're not going to emote the living hell out of it. Come to think of it? Getting a song across in a relatable way has always been Jordan's problem.
That and the fixation on Kelly Clarkson thing.
While watching Jordan's audition for Kelly and subsequently witnessing her getting the opportunity to sing with her ultimate idol? I've been wondering what that would feel like.  And I've come up with the word "awesome."
I've wondered, if I ever had the chance, who would make me swoon in my drawers if wishes were horses and beggars could ride. I mean, who would be the ultimate artist for you, given the chance? To "duet" with?
I have a few picks. (With questions like these I can't narrow it down to just one.) Bruce. Yeah. We'd bang out "Hungry Heart." Or Michael Feinstein and I would sing Gershwin tunes. Maybe Liza Minnelli and I could do a bit of "New York, New York."
Yep. It must be awesome to sing with your musical idol. Maybe I'd be all googly too.
For that reason, Jordan was lucky. I saw her crumble in tears at the end. I could sense that she felt that she let Kelly down. But I hope after she gets the chance to reflect on this experience, she realizes that she lived out a singer's dream.
A musical fan's dream.
She got to do it. And on national television.
How very fun!
That's the main reason I'm still watching this thing. Duets has its' problems. But the main premise keeps me coming back. Real people interacting with stars. It's not a new phenomenon in reality TV. But it's an idea I really like.
Photo Credit: ABC