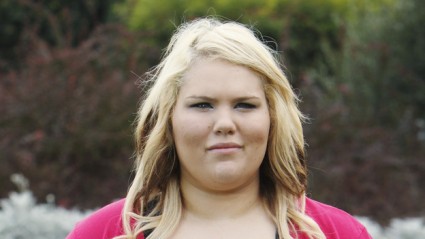 This episode of Extreme Makeover: Weight Loss Edition took us on a journey with Ashley, a 20-year-old cosmetology student who lives at home and weighs 323 lbs. Trainer Chris Powell surprised Ashley on her 20th birthday by whisking her away to the California Health & Longevity Institute to help get her life back on track. But it was clear that Ashley had more issues than just her over-eating.
In the two years that the show has been on the air, I've never seen someone have to deal with the family issues that Ashley had to deal with. When she and Chris returned from CHLI, her whole family was supportive (Chris made them sign a support contract), joining her during her workouts and even using the equipment when she wasn't there. But by day 51, that support had evaporated, her mom complained about the exercise equipment using too much power and accused her of trying to make the family look bad by shooting video of the Thanksgiving food. She totally lost it when Ashley wanted to go for a 30-minute bike ride on Christmas. The stress of the situation was not helping Ashley lose weight — her 90 day goal was 80 lbs — and Chris was very concerned that she would not make her goal and get the reward: her own apartment (I'm curious to know who was going to pay for the apartment since Ashley had no job or really any income to even feed herself on her own). A week away from home in a hotel helped Ashley hit a double digit weight loss for the week, but she still fell short of her goal, losing only 68 lbs (still a good number though).
Besides the mom issues, Ashley also had father issues. Her parents divorced when she was one because of her dad's drug addiction, and that separation and his lack of interaction in her life was also a huge issue she needed to deal with. Some attempts to connect with her dad left Ashley still with unresolved feelings, and the relationship with her mother — who threatened to punch everyone in the head because she was so annoyed with the whole show — was not helping. Ashley's Phase 2 weight loss goal was 50 lbs and she managed 38 lbs. Chris' concern for Ashley's situation was admirable, and he suggested she go see a therapist to sort her own issues out, and it was here that she, and we, learned the most valuable lesson of the night: change comes from within, you can only change yourself, others will only change when they want to and you have to accept them on their own terms. That's really a great lesson to be applied in every day life, and it certainly helped Ashley deal with her issues with her father (moving out of the house to stay with friends, rent free, helped solve her mother issues).
It was great to see Ashley's confidence grow as Chris made her go on a 15-mile "walkabout" to the top of a volcano crater in Hawaii and then take a 700-foot zip line back down to the bottom. She also went to see her dad one more time and told him that she loved him but she wasn't going to be the parent to him in the relationship. Her new-found confidence and independence helped her relationship with her mother, and by the 9-month weigh-in, Ashley had lost a whopping 144 lbs, nearly 45% of her body weight, which made her a candidate for the skin removal surgery she needed so badly.
The big reveal came on Ashley's 21st birthday atop the Palms in Las Vegas — what a way to celebrate! — and her final weigh-in was 167 lbs. The big question now is: Can Ashley succeed in keeping the weight off? Sadly, the program does not always succeed for everyone. Checking out the "Where Are They Now?" video on abc.com, last week's subject, Mike, gained a lot of weight back but continues to work at getting back to his final weigh-in weight (check out his follow-up video). More encouraging was Ashley's follow-up, showing off her new car and her new career at a local gym. I wish Ashley the best of luck, because it was great to see her grow into her own person over the course of the year and become a strong, independent woman who is happy with herself for the first time in her life.
Photo Credit: ABC