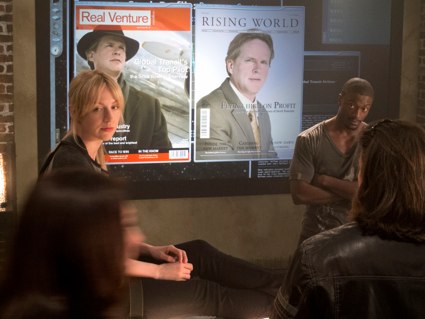 "Thief  Juice — it's a mouth crime." – Parker, on the name of their home brew
I guess it makes sense that Leverage is finally being set in Portland, Oregon, where the series is actually filmed. But as a Bostonian, I'm sad to see the series move across the country. I liked Nate's apartment above the bar and I liked having the crew in my town. After the events of last season, though, it stands to reason that Nate's apartment wouldn't be safe anymore. Sophie likes the Portland idea about as much as I do, but it will be nice to see authentic, on-location shoots … at least I hope they take advantage of that.
Speaking of last season, I was ready to see season five enter with a bang. It didn't necessarily whimper, but after the incredible season four finale, I did expect a bit more. The way they left us at the end of the episode, though, leads me to believe we'll get there. "All good things come to an end," says Nate to Hardison — what things? There's so many way we could read into that, wondering what secret Nate is making Hardison keep from the team. It likely has something to do with Nate's "vacation" but is he really going to leave the team?
One thing that season five has set up is the potential for more Eliot. After the first season established Eliot's nuances, we only got glimpses throughout the other seasons. Having the brew pub may give Eliot more to do, showing his chef side more often. And the fact that Eliot spent his vacation with Adam Baldwin, doing some secret mission, bodes well for more Eliot awesomeness. Yes, that was Adam Baldwin, and yes, it's likely a recurring role. Oh, it will be fun to see Christian Kane and Adam Baldwin reunited. Getting to hear Eliot say, "I'm only going to say this once boys — give me the … teddy bear" was worth every moment of "The (Very) Big Bird Job" that wasn't up to snuff.
Parker's character is going places as well. I love the conversation she had with Sophie, about how much Sophie was hating Portland, but Parker didn't care because she had her money and she had her people. She's really come a long way since season one, when she couldn't trust and couldn't bond.
I wanted season one back, and I thought the end of season four was going to bring it. The season five premiere doesn't give me that same confidence, but if you're looking for a fun and entertaining hour of television, Leverage still delivers.
This and that:
Nate's haircut looks nice — is he finally taking care of himself, getting over his sorrows and his alcoholism and moving on, or did Tim Hutton just get a trim too close tot he start of shooting?
The vacation flashes were a riot — Parker's really got Hardison whipped!
Always great to see Cary Elwes on my screen.
Photo Credit: TNT