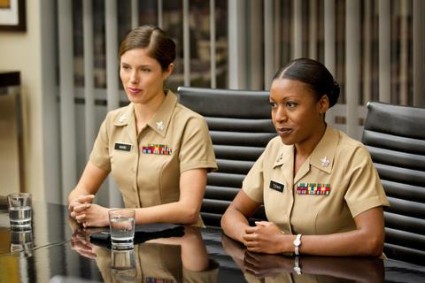 As per usual, this episode started immediately with an inappropriate party, but it turned out to have actual purpose to at least one of the subplots. There were two main plots and a very minor subplot this time around. It seems that the mysterious cabal behind Franklin & Bash has finally started to read my opinions, as Damien is actually evolving even more as a character. Shocking, I know, but there were are. Let's start with the least of the subplots, the nonsensical and basically useless one where Pindar breaks a gift to the F&B boys. It was not even clear that he broke anything at all, I had to rewatch that scene to clarify. The driving bit was silly and predictable, and offered what could theoretically be considered growth in Pindar's journey to become a normal member of society. And a bit of silliness from Stanton, I suppose.
F&B's plot was a meatier one, showcasing an entirely different sort of scene — and that apparently the writers loved the show JAG. Well, it was popular. It's useful to see the boys in a situation that they can't easily talk their way out of, due to entirely different sorts of policies and unspoken rules. Gave the show a chance to show just a drop of something interesting with Hannah, although granted not much. I feel like there were some missed opportunities addressing the controversy of women on the frontlines, which was somewhat brought up as "No, bad!" and then changed to "Yes, good!" in the end. It's a difficult issue to discuss, and perhaps the show could've done a better job talking about it. There was only one "Classic F&B" moment, that was actually played for real drama, surprisingly enough. Tricking the female captain into confessing was an even more dangerous gambit than usual, and it would've seriously damaged the two's egos.
Oh, and did you catch the "JAG Off… icer" joke?
As for everyone's favorite character, Damien shares an attraction with summer associate Alyssa, who was apparently a former stripper he had met at a strip club. Wonderfully awkward, there. At first I liked that the episode could be read as ambiguous: was she playing him? But that was dropped and it became all about the classic "mistake, wait not a mistake" back and forth. Fired, rehired, offered a job, and then she leaves for a rival. So there's no conflict of interest, maybe … but hopefully she'll be back. It'd be nice to have a different sort of relationship to talk about.
Photo Credit: TNT