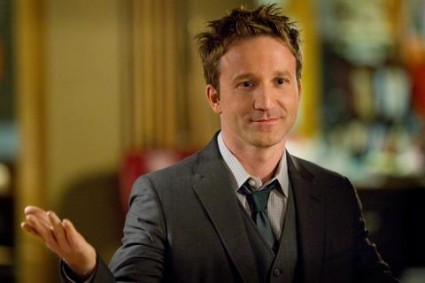 This episode of Franklin & Bash attempted to give Hanna some character development (which I've been complaining about the lack of), but it didn't quite … work. There was more good stuff with Damien, but Hanna's subplot about her ex-boyfriend artist (played by Boris Kodjoe of the late, lamented Undercovers) was kind of rushed and uninteresting. He's a good enough actor, so if he comes back, hopefully that'll mean more storylines for them.
In the secondary plot, Damien gets overzealous about protecting Stanton from a stalker. Not too many twists and turns for this plot, other than the "criminal is now a lawyer" and "the victim was playing them against each other." Reasonably original way to handle it, and it served to give Stanton some meaningful things to say, not just prancing about naked or being odd. Will Samuel also be incorporated in later episodes? Maybe just one? It's tough to say, but I'm guessing probably … not. Damien's immoral behavior seemed shades of F&B — are the bad boys rubbing off on him? Shocker!
In the "main" plot, we finally get a story about the phenomenon that swept the museum circuit seven years ago: Plastinated Bodies. Not exactly in vogue anymore, but it does still exist and it's a "bizarre" angle to take for the boys, so … there you are. The little back and forth with the dance instructor who "loved" Henry Strauss was odd — I kept expecting that to go somewhere interesting, but instead it ended with a weird conversation with Martha at the end. Didn't see the point of it, really. But there were a few rapid fire twists in F&B classic style, although the giant stuffed bear was good enough that they didn't really need to show anything else after that. Would've been a better place to end the plot, I think.
But my favorite part was the little reference to A Clockwork Orange by Malcolm McDowell, which is a movie that is nuts but I still enjoy. Fast and subtle, that's the best way for that sort of thing. Just like this show.
Photo Credit: TNT