Remembering Tanya Sloan, the Power Ranger with attitude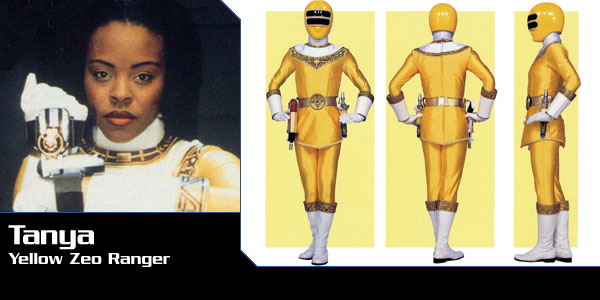 Go, go Power Rangers! In this week's Clacking in Color, the super column about ethnic diversity in Hollywood, writer Jaylen Christie takes is back to the 1990's for a fun editorial about one of his favorite Rangers, Tanya — the sistah' with attitude!
Generally speaking, the month of January usually brings new blissful beginnings. For me, this year, it just brought a whole lot of damn nostalgia. And so it was that I spent the dawn of the new year looking at classic episodes of Power Rangers ... you know, that corny kids show about rainbow colored superheroes fighting to protect the planet against monsters and what not. Ah, it was like I died and went to nerdtopia. Anyone that has read my writing can glean that I'm a die hard fan of the Power Rangers. That's about as well known as Lindsay Lohan's inability to regain her career. Still, what some people don't know is that my love of the Rangers extends far beyond their first few seasons of the popular Mighty Morphin' era.
On the contrary, I was a huge fan of the Zeo season as well. For this week's Clacking in Color, I'd like to focus on one of my favorite Power Rangers — no, not Trini … although she was pretty awesome — but Tanya, the cool chocolate skinned sistah' played by the beautiful Nakia Burrise. I was in the fourth grade when Zeo aired on Fox Kids, and even though I've already graduated from college with a journalism degree, I can still remember the lasting impression that Tanya left in the series and in my heart. Go get your Kleenex. It's gonna be one of those editorials.
You see, Tanya was the Ranger that would shoot first and ask questions later. And why should she ask them first? Monsters were destroying the damn city. To borrow a line from a popular YouTube video, "Ain't nobody got time for that!" Heck, I loved Tanya. Not only could the chick wear yellow well, but she was unafraid of any of the evil cybernetic creeps that King Mondo would throw her way. Plus, the fact that she somehow knew karate in her first outing as Zeo Ranger II — without being trained — is cool. Maybe it was instincts. Or perchance the writers didn't have enough time to show her training. You be the judge.
Tanya was a fantastic representation, a real no-nonsense role model.
It's funny because I remember being pretty damn upset when the writers wrote Trini off in season two and replaced her with Aisha. I think I nearly staged a riot in my school cafeteria. However, once Tanya arrived on the scene from Africa, all was restored. As an African-American dude, I remember preferring to see a man of color as one of the Power Rangers as opposed to a woman because it gave me someone to see myself in. God forbid they have two chocolate skinned Rangers at once. That's a no-no. However, as I continued to watch
Zeo,
I came to realize that Tanya was a fantastic representation, a real no-nonsense role model.
The way she yelled her battle cry when she morphed — "Zeo Ranger Two: Yellow!" sent chills down my spine. Here was a woman that didn't mind defending the entire planet against a diabolical machine empire. Don't get it twisted now — the other Zeo Rangers were pretty fantastic as well. Rocky, the Blue Zeo Ranger, was my homie, but let's keep it real — Tanya had all of the swag.
And for that matter, she was also packing the toaster.
Tanya had a damn bazooka … if that ain't bad ass then I don't know what is.
Um, that's slang for heavy artillery. Her weapons of choice were two fierce nun chucks, and the colossal robot that she'd pilot into battle against oversized monsters was essentially a bazooka on wheels. No lie. Red Ranger Tommy had a bird. Blue Ranger Rocky had a sphinx. Green Ranger Adam had a bull. Tanya had a damn bazooka. Now if that ain't bad ass then I don't know what is. I'm not quite sure what impact she may have had on young girls watching the show considering that I have an XY chromosome and man parts. Nevertheless, I'm pretty sure they were thrilled at seeing someone so capable on the team. For me, she was a major inspiration. Not only was this person the same skin color as me, but she was smart, brave, and utterly fearless. Perchance she really was a bit of a role model. I dunno. My memory's kind of blurry. Aquaman may have been my sole role model back then.
I digress. Spending my New Years watching the Tanya-centric episodes on Netflix was really a treat. It was nice to take a trip back down memory lane, and even more fun to re-experience a character that was truly awesome. Burrise frequently appears at Power Ranger conventions in California. Perhaps I'll save up to attend one some day. Tommy may have been the leader, but Tanya was the one who took care of business … free of charge.
Now, that's a chick worth having on your team!
Do you enjoy reading Clacking in Color? Jaylen sure as hell hopes so! Feel free to follow him on Twitter @thesuperflynerd to keep up with all things diverse on television!
[easyazon-image align="none" asin="B0080730CK" locale="us" height="160″ src="http://ecx.images-amazon.com/images/I/51nu27izMWL._SL160_.jpg" width="114″] [easyazon-image align="none" asin="B008VIMLNW" locale="us" height="160″ src="http://ecx.images-amazon.com/images/I/51eBJVyrbAL._SL160_.jpg" width="114″] [easyazon-image align="none" asin="B000I9VYZ8″ locale="us" height="160″ src="http://ecx.images-amazon.com/images/I/51ClY%2BhcQlL._SL160_.jpg" width="112″] [easyazon-image align="none" asin="B008CPAV6I" locale="us" height="160″ src="http://ecx.images-amazon.com/images/I/61-ebqaQ97L._SL160_.jpg" width="120″]
Photo Credit: Ranger Central