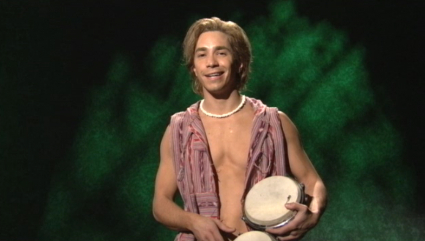 I remember many years ago that, when a guest was scheduled to appear on SNL, it was a near certainty that at least one skit would be all about some movie or TV show that the guest was associated with. What the hell happened to that? I miss those days of SNL. I think we all do.
Cool thing about this week's post: ALL of the skits AND musical numbers are embedded below!
Cold Open: Presidential Address — Surprise! Another presidential address, and I think everyone was with me in knowing it just had to be about Obama winning the Nobel Peace Prize … for "not being George Bush." Yowch. Really a weak open, just because it short on the funny and really didn't have much to it.
Monologue: Drew Barrymore — I had no idea Drew had hosted so many times (six) before. As she said, it's the most any other female has hosted the show. I always love when a celebrity makes fun of themselves, but maybe this one went on for a bit too long.
Gilly — Anyone else done with this skit? I'm not sure there's any way to make it funny. I especially can't stand that it has a frick'n theme song. A theme song! As if this was supposed to be a separate TV show people would actually tune in to. "It's Pat!" was at least funny a lot of the time. Gilly/Gigli was never funny, was it? At least throw it into the last half hour, not this early!
Celebrity Ghost Stories — This is a real show! I haven't watched it before, but yeah, BIO has this show. Justin Long was a surprise cameo and did a great Matthew McConaughey. The best part of the skit was the beginning quote: "Welcome to the Biography Channel. Hey, I know it's not my place, but … open the blinds."
Commercial: University of Westfield Online — Y'know, I'd been wondering if having an online degree would actually work against a person when they try to get a job. Do hiring managers throw those resumes right in the trash, before going another word further into it? Now, if they could teach the fine skills that U. Westfield is teaching, graduates wouldn't have to worry. Really liked this skit. The vague mumbling of the university's name reminded me of a bunch of skits Chevy Chase had done. Remember "Land Shark?"
La Rivista Della Televisione con Vinny Vedecci — I loved that Vinny's list of staff conquests included numbering them all (87 in all). Other than that, at this point of the night I was wondering if it was a bad idea to have stayed up to watch the whole thing. It usually only gets worse as the night goes on, right? Well, after Weekend Update, that is.
Musical Guest: Regina Spektor — I honestly have never heard of Ms. Spektor before. Pretty good coffee shop music and she's decent on the piano, but there were some vocal notes I didn't dig so much in the first number.
Weekend Update — Bill Hader's James Carville was the highlight of the Update tonight. If you've ever seen this guy on TV before, Hader was dead on with his mannerisms and attitude.
Tampax to the Max Tournament of Champions — Funniest part of this bit was all of the Tampax slogans that "Pete Twinkle" kept coming up with. Favorite one: "Tampax. Helping you relax when Mother Nature attacks your slacks." I even think I saw a bit of a smirk come out of Sudeikis on that one. But yeah, the skits aren't improving after this.
Cooking al Fresco with Fran & Phil — What do you get when the city birds get picky with just breadcrumbs? Foodie birds! The Guy Fieri impression was the best part of this skit. It really had a lot of promise but, for some reason, it didn't fully deliver. I think I expected a more outlandish reaction out of Samberg when the birds attacked, for example.
Larry King Live — Wieners! Did anyone else think for a second that, at some point, the joke of this skit would be about "wieners" being something other than a penis? No? Well then you can a penis a wiener way too often.
SNL Digital Short: Brenda & Shawn — Proven again that SNL can't produce two cult favorite shorts two weeks in a row. I thought the poor film quality was great and they somehow were able to make the whole thing appear as though it was a locally broadcast cheap commercial. Other than that, I was wondering where the hell you get those glowing thumbs.
Hamilton — The best part of this skit was finding out the author had just finished reading her entire book to the people in the store. Oh, and Drew going full-out spread-eagle for Hamilton, with two book fans helping to keep her steady.
Photo Credit: NBC