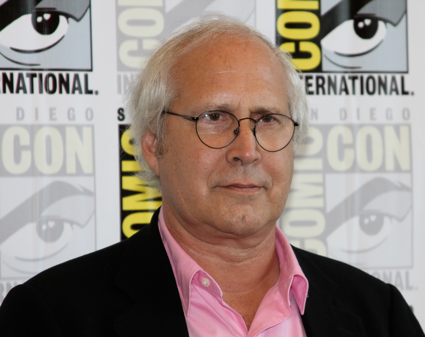 After his past season of Saturday Night Live, I thought a neat poll or contest to hold here would be predicting which famous people would likely guest host on the show next season. You can make a pretty good guess if you look at what movies are coming up (my money's on Jeff Bridges to promote TRON) and who has a TV show or album to promote. For someone who's an alumni and legend in the SNL community, Chevy Chase hasn't guest hosted the show since 1997! But now having something new (and successful) to promote, with Community, he should be a shoe-in for guest hosting, right?
During the San Diego Comic-Con this past week, I got a chance to sit down with the cast of Community, including Chase. I found an opportunity to ask him what was up with any possible SNL guest hosting on the horizon.
Me: Is there any chance you'd be a guest on SNL, now that you're on Community?
Chevy Chase: I don't know … I think Lorne [Michaels] is angry at me for some reason.
Me: I thought I had heard something about that.
Chevy Chase: I don't know why. I think it's because I let Donald [Glover] into the room one night when we were watching something in Lorne's office. (to Glover) Do you know why he's angry?
Donald Glover: No. I don't talk to him.
Chevy Chase: I think Lorne's pissed at me. I'm not sure why. I'm really half kidding. I do like to go and watch the show and stuff. I did say once to Lorne, "Hey, now's the time! I should be hosting! To promote my show." And he sorta sneered. And then I realized, well, that's because the other show, with Amy [Poehler] (Parks & Recreation)! Why would he promote mine? [Note: Later Chase said he meant Tina Fey, with 30 Rock.]
What do you think? Should we start another Facebook campaign and get people to demand Chase to guest host?
Photo Credit: Keith McDuffee, CliqueClack