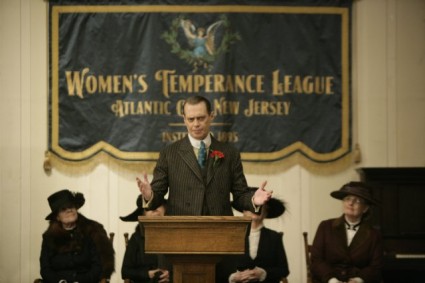 HBO has been pushing Boardwalk Empire as their big new hit for a few months, and now the show has finally premiered. With the budget (they recreated the 1920s Atlantic City Boardwalk and had a budget of 18 million dollars for the pilot) and the talent behind (Martin Scorsese is a producer and directed this first episode, Terrence Winter of the Sopranos is the creator) and in front (Steve Buscemi, Michael Shannon, Michael K. Williams) of the camera, it shouldn't come as a big surprise. All the hype is behind us, though, and the show has finally begun, so let's jump right in.
The long pilot was excellent, in my opinion, and I think the show has a lot of potential. I was most impressed with the production value. HBO has a good reputation for making cinematic television, but I would put Boardwalk Empire against any period piece film when it comes down to quality of the cinematography, direction, and production. This looks like a movie on television. The episode was directed by legendary film maker Martin Scorsese, and it definitely showed. It's unclear exactly what his involvement with the show will be as it moves forward, but he has definitely put his stamp on it.
As for the show itself, it looks like a straight up mobster epic. It's not the type of thing that I usually go for, but I really got hooked with the time period and production value. I mean, they completely recreated Atlantic City from the 1920s. I'm fascinated, intrigued, and definitely want to see more. I also think, as strange as this may sound, that a lot of what I don't like about gangster films is mitigated in this show because of the time period. Because it is a distinct and very different period in time, the crimes and poor behavior strikes me a bit more as "fantasy" than in a movie like Goodfellas, if that makes any sense. Plus, as I titled the post, prohibition was just a stupid idea, who can blame these folks for thumbing their noses to it and making a few bucks at the same time? Of course it wasn't just bootlegging that they were involved in, but….
As a character, Nucky has me really intrigued. In the pilot he came off as a genuinely good guy; someone concerned with the regular folks. I'm wondering if he is a good guy just looking to make some money, perhaps getting involved with things a little over his head, or is he really a gangster who can compete with the likes of Lucky Luciano and Al Capone? I assume the picture will become clearer as the series moves forward. Hopefully Nucky will continue to be a deep and perhaps dichotic figure; I'm not looking for him to become dumbed down or one dimensional, but a little more clarification on his motivations would be welcomed. At the very least, I know it's going to be fun watching Steve Buscemi play this character.
One character that I wasn't super thrilled with was Michael Pitt's Jimmy. The guy came off as a total sleaze in this first outing. I suppose that was partly the intention of the show, but I'm wondering why he was allowed to get away with the shenanigans that he pulled. It definitely has me wondering about Nucky's gangster credentials. I don't think a lot of mob bosses would have let Jimmy get away with the bloody jacking of the booze shipment. I'm eager to see what his involvement with the Feds is going to be like as the series continues. I think it would make me like the character a little more if he were informing on the criminals, but his ambition seems to point in another direction. It seemed like the show was trying to set him up as the "everyman," but there was something about him that rubbed me the wrong way.
One of the things that I was most excited about with Boardwalk Empire was the return of Michael K. Williams to my television set. Omar Little from The Wire is one of my all-time favorite characters, so I was eager to see what Williams was going to be doing on the newest HBO show. Needless to say, I was more than a little disappointed that he was on screen during this episode for approximately five seconds. He is listed as a regular cast member, though, so I'm hopeful that he will indeed play a large part in the series in the near future.
The only story line that I really didn't like in the pilot was the one that involved Margaret and her abusive husband. It was very dark, to say the least, and I'm wondering how she is going to fit in with the rest of the characters. At least her husband is out of the picture (in a twist that showed just how clever, resourceful, and underhanded Nucky can be). However, that might also mean that her story becomes a very depressing one of a single mother trying to get by in a hard period to do so.
What did you think of the opening of HBO's new big time series? Are you ready for more?
Photo Credit: HBO