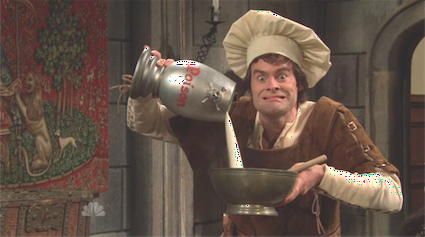 Cold Open: O'Reilly/Obama Interview — Honestly the only thing going through my mind during this sketch was how much less awesome this cold open was to last week's Wayne's World.
Monologue: Russell Brand — The only thing I know Brand from is Forgetting Sarah Marshall. Other than that — and the fact that he's starring in the remake of Arthur that Ken Levine will never see — I have no idea why he was granted a guest host sting on SNL. I guess Get Him To The Greek was good? Maybe being married to Katy Perry? Really?
Gublin & Green –This was pretty damned funny, and if you haven't read or heard of what'd happened in the Spiderman Broadway musical, you're missing out. Also, get it? Green Gublin?
Ultimate Vacation Giveaway — We've seen this sketch before, and it doesn't really work all that well as a repeating skit. How many times can you show someone not excited for a prize, yet surprised about something insignificant? Alright, the guy peeing himself in excitement was funny.
Don' You Go Rounin' Roun to Re Ro — I'm amazed at how legit some of the fake movie trailers SNL puts out look. This one was pretty awesome, though Brand's character went a bit overboard — maybe because he's a Brit trying to do exaggerated Brit? Unfortunately www.donyougorouninrountorero.com only goes to NBC.com right now. (UPDATE: Now it's a trailer site! Nice!)
Royal Taster — This actually started out like classic, good SNL, but the final bit after the taster died was just … what? It had a lot of promise to it and it just fell flat.
Musical Guest: Chris Brown — Holy auto-tune on that first song Batman.
Weekend Update — Wow, I'm actually shocked Garth & Kat didn't make an appearance in this episode! Taran Killam does one hell of an Eminem impression, I will definitely give him that. Word of the day: Jewpids. Thanks Stefon! I swear he doesn't know what he's going to be reading before he gets in front of the camera — it's hilarious!
Livin' Single — Brand definitely went all out in this one, and I'm only a little surprised someone didn't remove some piece a clothing!
A Spot of Tea — Gee, did you notice that more than a couple of skits featured English characters in this episode? It's like they couldn't get more creative or Brand had a hard time ditching his accent enough to appear in more skits. And then this sketch was just … weird.
Presidential Time Machine — This one was really short and pretty damned weird, but for some reason I was cracking up. I mean, of course that's what someone snatched from the past would do if they awoke in our time.

Loading ...
Photo Credit: NBC