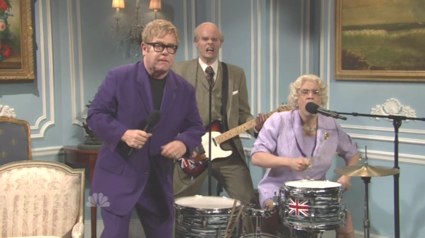 Cold Open: Lawrence Welk Show — Well Elton John kicked things off on a high note with this sketch. I still love the crazy baby hand sister thing, but they're teetering into the overdoing it phase of a repeating sketch, with that whole piano riff. What's next, a movie about the sisters?
Monologue: Elton John — Though I'm not convinced he came up with these jokes himself, it didn't matter — they were well-delivered and funny. Another nice addition to the start!
KY Jelly Ladies Shot Put Championship — Hey, it's Will Forte! And nobody in the crowd noticed! But they did notice Carmelo Anthony and Tom Hanks.
Knights of the Realm — Oof! Botched Sting joke on Elton's part … I think. Actually, it was sorta funny in a cute way that he botched the joke and fully reacted to it. Imagine if they could have gotten Paul McCartney to appear? Awesome. But I guess that was the whole pint of Ringo being there. I was surprised they were able to say "jizzed" on SNL, actually.
Laser Cats: The Musical! — The funniest part of this sketch this time was that Tom Hanks had something to do with it. Other than that, hasn't everything they've been doing been done before?
Musical Guest: Elton John with Leon Russell — These were great and just what I'd want to hear from a duet like this. I'm not sure anyone who doesn't hate Elton John didn't enjoy these.
Weekend Update — My favorite part of this sketch (do we call this a sketch?) was Seth going off on the hypocrites of the world. Anyone else think Andy Samberg was going to come out as the cobra during that part of the segment? Also, now we have three cameos with Jake Gyllenhaal and faux Nick Cage. So are all these cameos here because it's Sir Elton as guest?
Royal Wedding Plans — Alright, this ended off pretty awesome. Armisen was definitely really playing the drums, though I'm not sure about the guitar.
The Silver Screen — The funniest part of this sketch was how well Elton can keep his composure. Damn if they weren't trying to make him crack a smile off-cue, but he'd have none of it.
The Old West Stranger — Elton John really is a great guest — I had no idea. He was able to throw in a casual ad-lib from his hat falling off with barely a twitch. The "twist" ending of this sketch was the icing on the cake.

Loading ...
Photo Credit: NBC