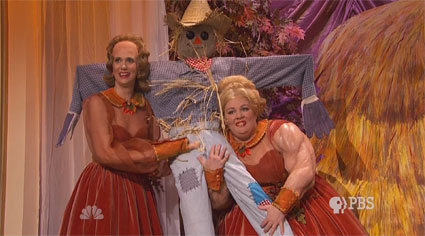 Cold Open: The Lawrence Welk Show — I was surprised there was no "Badass Obama" open. I never get tired of this bit, and Melissa McCarthy as another weird sister just added to the hilarity. Loved the wood chips flying as she gnawed on the tree.
Monologue: Melissa McCarthy — I loved Melissa McCarthy on Samantha Who? and she stole the show in Bridesmaids, so I was really looking forward to her hosting gig (she did not disappoint).  After some hellos and good nights to her kids,  Melissa teased us with her love of dance and invited Kristin Wiig to partner with her. The highlight was the shadow dance they "performed." (And some nice assist from Taran Killam and Bobby Moynihan.)
Lil Poundcake — "The only thing you'll get infected with … is fun!" Funny, creepy and topical commercial about a doll that administers the HPV vaccine. Reminded me of any number of Saturday morning doll commercials … minus the needles.
Inappropriate Office Behavior — Melissa plays a very hands-on office worker. "I'm workin' on the lady boner this one just put in my pants." Sudeikis seemed to have almost lost it a couple of times.
SNL Digital Short: Stomp — A police precinct becomes the setting for a Stomp-like number … until Blue Man Group shows up.
The Comments Section — A talk show that features the anonymous commentors on any number of internet sites (like this one!). One guy meets the object of his unwarranted ridicule, another guy is questioned about his inappropriate use of the word "boobs" ("Puppet Boooooobz!!!"), and another is questioned about leaving political statements on decidedly non-political posts. Some of our Clackers may have relished this skit.
Chris Rock in Rock's Way — Jay Pharao as Rock doing his act in all of your Broadway favorites like Oliver! and Annie. Best part of the skit was Vanessa Bayer's audience member who had no idea what was going on but laughed anyway. Unfortunately, Pharao's Chris Rock looked and sounded more like Eddie Murphy.
Musical Guest: Lady Antebellum — Not really my cup of tea, but they looked and sounded pretty good. But not enough to make me a fan.
Weekend Update — WU seemed rather short and to the point this week with some pretty funny news items. Another visit from Gaddafi's Two Best Friends Growing Up (with a nice twist as Seth Meyers was dragged into the bit while addressing the new head of NBC), and Tyler Perry (Keenan Thompson), who says his films cost $400 each and every black person in America sees them, and then takes a nice dig at The Help.
Focus Group — McCarthy plays Linda, who really loves Hidden Valley Ranch Dressing (except she thinks Bacon Ranch tastes like strawberries). A $50 prize for a good comment sends her into competition mode. You'll never look at Ranch dressing the same ever again.
TCM Presents The Essentials with Robert Osborne — A look at the career of Lulu Diamond, a Mae West knockoff, whose catch phrase was "Why don't you come upstairs and see me up there sometime?" Except she has a major problem going up stairs. McCarthy really threw herself into this one … literally. But poor Robert Osborne. What has he ever done to the SNL folks?
Bar Pick-up — Andy Samberg plays Don, a guy who claims to have no complaints in bed, as a string of women line up to complain about his lack of skills. But he seems to have found a match in Lana.
Here's an extra sketch that didn't air, called "Netflix's Apology.":

Loading ...
Photo Credit: NBC