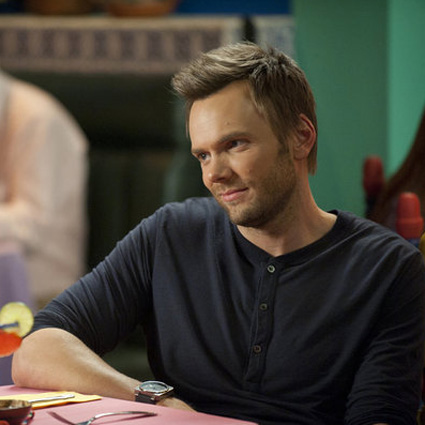 In the past couple weeks, I found myself enamored with Jack Davenport's snarky director portrayal on Smash, which catalyzed my creating the favorite Brits poll. However, I wasn't just fascinated with Davenport's looks, but his rakish ease in portraying the character.
I started to wonder who else in CliqueClack had a crush on an actor or actress, either for their talent, some quality in their appearance or both. So, I sent out an e-mail asking what network actor for a show currently on TV that the crew had a crush on.
While the male clackers remained silent fearing a trap, most of the female clackers easily delineated their favorite actors and celebrity crushes.
Although Julia mentioned White Collar's Matt Bomer as inhumanly, terrifyingly, "improbably good-looking", half the cast of Merlin (Santiago Cabrera, Colin Morgan, Bradley James), all the cast of Sherlock (Benedict Cumberbatch, Martin Freeman) and Covert Affairs' Sendhil Ramamurthy, I had to disqualify them for their cable or BBC location.
Although, technically, I should've disqualified Jane's favorites, I let them slip through due to repetition.
So, join the CliqueClack gang in discussing your favorite celebrity obsessions.
An:Who are your celebrity crushes on network TV right now? Considering Tara's love for Gordon Ramsay and my newfound love of Jack Davenport (which I share with Brittany), does anyone have a favorite actor on network TV?
Carla: Wilson Bethel — Ever since the heat wave episode of Hart of Dixie, I've been all about Wade! The show really needs to get renewed because I need my weekly Bethel fix! Hot hot hot!
Brittany: Ha, yes, I am a Davenport fangirl. I'd also throw in Mark Valley (Harry's Law), Danny Pino (Cold Case), and Gabriel Macht.
Carla (on Wilson Bethel): Though, now that I think about it … it's not really a "celebrity crush." More just hotness of my TV screen.
Jen: Joshua Jackson, AKA Peter Bishop (Fringe); Joel McHale (Jeff Winger) from Community; Tony from NCIS (Michael Weatherly).
An: I think celebrity crushes fall into two categories: the person whose physical appearance makes you go 'please, sir, may I have some more;' those whose talent impresses you; and those who combine both. I am literally obsessed with Jack Davenport on Smash, yes, because of his looks but also his talent. Joel McHale is another celebrity crush who combines both for me.
Brittany: Yeah, I agree with this totally. Jack Davenport was my high school crush, and I've swooned over both Danny Pino and Mark Valley in their Cold Case and Human Target days, respectively.
But in Gabriel Macht's case, while I do think he's a good-looking man who wears an expensive suit very well, it's less the looks than it is that I think he's absolutely mindblowing in the role of Harvey Specter.
Tara (on her Ramsay crush): Let's be clear here. I did not state the word "love." I simply want to be kept by him in a style to which I will quickly become accustomed in a palatial residence.
Julia: I don't watch The Office anymore, but John Krasinski is always pretty damn dreamy, and occasionally I get a little giggly over Jason Sudekis and/or Taran Killiam on SNL. Buzz McNab/future Gaston Sage Brocklebank-somethingsomething is fucking adorable. And while I have officially ceded my claim on Josh Dallas from Once Upon A Time, it doesn't mean I'd kick him out of bed for eating crackers. And I have no idea why Chris Pratt is so cute to me on  Parks and Recreation, but he totally is.
Though none of these compare to Paul Rudd, who is my forever girl. I'm counting him as a TV person because he's guesting on Parks and Rec right now, so it's totally valid.
And also, of course, while she is news, she's still TV – Rachel Maddow. The one woman I would absolutely and completely go gay for.
Tara: The guys aren't responding because … it's a guy thing. They probably figure the first one to respond to such a girly roundtable loses.
Jane: Jon Hamm. Matt Bomer (because he's just so pretty to look at). Jon Hamm. Jeremy Sisto. Jon Hamm.
And because I'm equal opportunity, my TV girl crush is Sofia Vergara.
Oh yeah. Jon Hamm.
Photo Credit: NBC