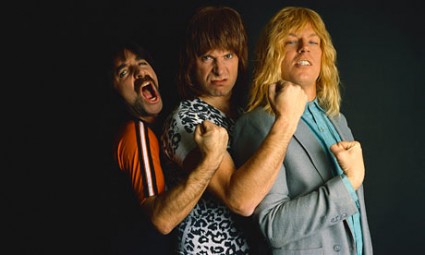 Care to venture on a little jaunt to The Isle Of Lucy just off the English coast. Why? Well … everyone knows they have a wicked annual blues/jazz festival there in the good 'ole summertime. (Or … is it "jazz/blues" … ???)
No matter … because CliqueClack is headed on a journey with the members of "the world's loudest band," David St. Hubbins, Nigel Tufnel and Derek Smalls of Spinal Tap.
Yes, we're doing a little tribute to one of our favorite comedies on the map, This Is Spinal Tap.
Here at the decadently-appointed, air-conditioned and cooly-hued halls of CliqueClack (where sangria is made fresh daily to slake our summer thirsts and chilled, peeled cucumber slices are made available to us to sooth our computer screen weary eyes) we're going to take a look at "the funniest rock movie ever made" and see what we can see about that particular claim. Beginning Sunday and throughout the week, the CliqueClack staff will reminisce and blather, cajole and critique, offer shout outs and reactions on This Is Spinal Tap for your dining and dancing pleasure. Plus, if you're a "Twitterer" you can easily keep up with us — @CliqueClackFlix — to get reminders as each post launches.
Of course, we're looking forward to chewing the fat about the film and its antics and we hope you will be too.
Because every once in a while, you need to set your amp to 11, cut loose and get sexy …
Photo Credit: MGM