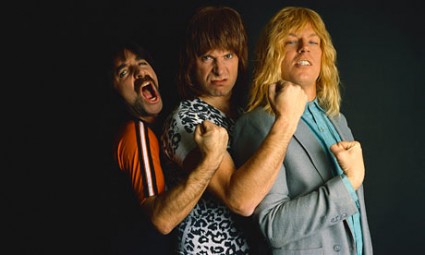 Somehow I never watched This is Spinal Tap before. I suspect this happened because I was slightly too young to see it in the theaters and it referenced an era that I knew little about. Worse, what I did know I thought was uncool, and that's a far bigger hill to climb. I was too busy listening to Brit New Wave to concern myself about a parody film of washed-up British rockers. Later on, I saw the Christopher Guest mockumentaries like A Mighty Wind and Waiting for Guffman, but I didn't go back to catch this one. So, I come to it knowing little about the film (even though I got it in my head at some point that it was parodying KISS), but I've never sat down and watched the whole thing before tonight.
First of all, it's a real treat to see the early days of Christopher Guest and Michael McKean, and so many others, even Billy Crystal and Dana Carvey in there. Fran Drescher is pretty perfect, and I haven't been able to stand her for twenty years. And I had to look up Rob Reiner to find that I haven't seen a film he's directed since The American President in 1995 (dude — The Princess Bride is a masterpiece, what happened?)
It's a short film, which is good, because the editing is very 80s, and a parody of that style besides, so some scenes seem to drag on too long. Most of the time I know this is deliberate, since Marty is supposed to be awful, but that doesn't mean some of it isn't a bit dull even so. But the performances are outstanding and support it through the slow parts, and I am astonished that all the dialogue was apparently improvised as well. The costuming and hair also take me back to that glorious time of the 80's hair bands, who didn't even get the irony of dressing like characters in a parody film after it came out, mocking them (David Coverdale, meet the other David …).
The movie has some moments that made me laugh out loud and several chuckles as well, even though I know I missed some of the more pointed jokes at actual people. I can't quote all of it (there's a post for that), but it is highly quotable. The sight gags are also occasionally great, especially with the teensy Stonehenge in danger of being crushed by dwarfs, the cucumber in Derek's pants at the airport, and, what I think might be my favorite bit: getting lost backstage. It reminds me of so many concert videos where the band gets to the stage with the triumphant opening of the door to the screaming fans and here … they wind up where they started again. I had to pause the video for that.
There was also a joke ahead of its time in the end credits bit where they mention a place called "Hogwood, a summer camp for pale young boys." I may never get over the unintentional, ahead-of-its-time joke on Hogwarts.
But overall, this passes my test for a movie: would I watch it again? Yes, I would. And I'm glad I had a reason to sit down and finally see what I was missing.
Photo Credit: MGM