Flicks on DVD and Blu-ray – Indiana Jones, Ed Wood, Michael Myers, Judge Dredd
New video releases for September 18: 'Indiana Jones: The Complete Adventures,' 'Halloween II,' 'Halloween III: Season of the Witch,' 'Devil's Advocate,' 'Ed Wood,' 'Judge Dredd,' 'Black Sunday,' 'Queen of the Damned,' 'War of the Roses,' 'The Game,' and more.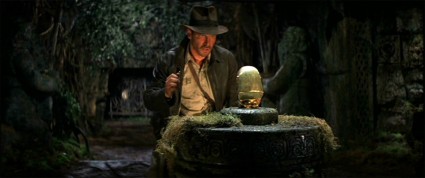 If you haven't checked out our new theatrical releases on home video page, be sure to give that a look after you have a gander at some of the awesome catalog titles coming to home video on September 18. Of course, the big news is the very first Blu-ray release of the Indiana Jones trilogy in a new box set containing all four Indy films. Raiders of the Lost Ark has been given the deluxe treatment with an all-new HD transfer and it has some great extras as well. Also getting a new Blu-ray release is the original Halloween II, which corrects some issues with the original Blu-ray release, and Halloween III: Season of the Witch gets the HD treatment as well. Both disks are packed with extras that any fan will want (although you may want to hold on to the Universal Halloween II Blu-ray for the Terror in the Aisles bonus feature which is not included on Shout! Factory's edition). Sylvester Stallone's Judge Dredd is also getting a dust off to tie in with the new theatrical film, and finally … finally! … Disney is releasing Tim Burton's loving homage to the "worst director ever," Ed Wood. Arguably one of the best Burton/Depp collaborations, the film also won Martin Landau an Oscar for his sympathetic portrayal of Bela Lugosi. A wonderful film that was a long time coming on Blu-ray. These and more will be hitting stores and online retailers soon, so have a look at the guide below and if you see something you just have to have, click on the appropriate link to make a purchase at Amazon.com (and you'll be supporting CliqueClack as well).
Photo Credit: Paramount