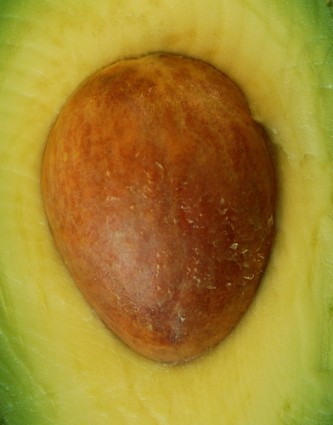 It could definitely be just me. I seem to have trouble with finding the balance of ripeness, what with my banana issues and all. Maybe a life-long New Englander just isn't fit to attempt bringing an avocado to ripeness. The Californians are laughing heartily right now, I'm sure….
Here's the problem: here on the east coast, we purchase rock-hard avocados from the market. So common sense would dictate that if you leave them out in a bowl, they'll ripen. I really wish that's what happened in my house.
Instead, the scenario in my life goes something like this:
1. Purchase avocados reminiscent of the rocks used in hot stone massage therapy. Yeah, I've done it; don't judge me.
2. Leave in produce basket for a few days to ripen.
3. Promptly forget that there are avocados buried underneath the overripe bananas.
4. Make guacamole with the overripe avocados, carefully spooning out the still green parts and dumping the yucky brown spots.
It doesn't always go exactly this way. There are times I actually remember to put the avocados in the fridge before they turn. Then, I can slice them onto crackers, top Trader Joe's Chili Lime Chicken Burgers with the slices, and toss some chunks into black bean salad. Wish these times happened more often….
So I ask you this — is there a sure-fire trick to getting perfectly ripe avocados every time?
Photo Credit: Gaetan Lee / Flickr