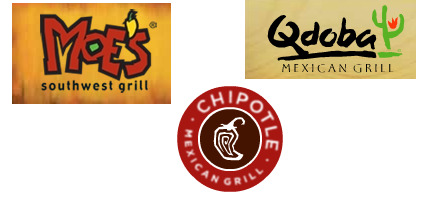 I'm big into Mexican food. As you saw earlier, I'm a margarita fiend and ex-parrothead, though the latter doesn't stop my love for south-of-the-border treats. When salsa gets passed around, I'm all about the HOT, baby. Burritos, tacos, quesadillas … I love it all.
Lucky for me, I've got a few really good choices for take-out Mexican food within a five-minute drive of my house. Besides the local spots, we've got a few of the heavy-hitter chains nearby to choose from. But which is the best of the three? Let's go over the offerings of each first:
"Welcome to Moe's!" If you've been to a Moe's, you're familiar with that phrase, shouted out anytime someone enters the restaurant. Before entering the line to place your order, you're presented with a menu of Moe's offerings, which can be a bit confusing, even though their names sound cool: The Homewrecker, The Triple Lindy, and the Joey Bag of Donuts. What's confusing is how little they differ from each other, making you wonder why they even bother to give them fancy names.
On the plus side for Moe's, guacamole is included in at least a few of the menu items, so it's not extra. Well, that is, if you don't ask for extra guacamole. Same with the chips; they come free with every meal.
Qdoba stands out from the other two in this stand-off because of its unique offerings. Unlike Moe's and Chipotle, which offer the basics in meats, toppings and salsas, Qdoba has some really tasty stuff that take it up a notch, in my book.
A personal favorite of mine is the Ancho Chile BBQ Burrito, which has a medium-spicy Mexican barbeque sauce that's out of this world. They've also got a Poblano Pesto Burrito which has an awesome pesto sauce that I'm not sure you'll find matched anywhere else.
The downside to Qdoba, to some, may be not having the ability to fully customize each item. As I said, Qdoba sort of stands on its own for having unique offerings, and you're better off heading to the other two if you're not into something different.
Nearly everyone I know virtually (e.g., on the 'net, most never in-person) lives or works near a Chipotle and most LOVE it. A location just opened up a couple of months ago close to my home, and being the Mexican-food freak that I am, I had to try it out.
First of all, like Moe's and Qdoba, everything is made to order in front of you, and fast. You've got all of the usual fillings and toppings, with nothing all that exotic to add to it besides the roasted veggies (which are really tasty.) The carnitas (pork) stands out above the other meats, and it's tough not to order it every time. All of their meats are naturally raised, which is a big plus in my book.
The burritos cost all about the same, the only change coming with what kind of meat you choose and if you decide to add guacamole. And you do want to add the guacamole. One downside I will give Chipotle is that their bags of tortilla chips are too small, though I'm probably complaining more about that because the chips are awesome, with a hint of lime.
The Verdict
I'd love to sat it's a three-way tie, but that'd be cheating, right? Instead, I'll order them from my own personal preference and why:
3. Moe's — They lose some points for their strange choice of menu options and lack of anything to make them stand out, other than their famous greeting.
2. Qdoba — They just miss the top spot because, while I LOVE their unique burritos, it's just about all I'll eat when I go there. I like some variety, and if they'd just let me slather whatever sauce I want on anything, I'd probably be going there more often.
1. Chipotle — Naturally raised meats, extremely fresh ingredients and awesomely limey chips. I can keep going back and get something slightly different every time, and their prices are really reasonable (as are the other two). Chipotle also gets another point for being the closest place to my house, but your mileage may vary.
Photo Credit: Moe's / Qdoba / Chipotle