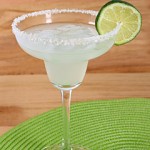 Back in the day, I was once a huge, Jimmy Buffett parrothead. For those of you not into the lingo, that means I was a big fan of his. I went to many concerts down at what was once called Great Woods in Mansfield, MA, starting as early as possible in the tailgating festivities. I had all the CDs, knew all the lyrics and could play more than a few of the songs on an acoustic guitar. Alright, that's enough embarrassing myself for one day.
As part of my parrothead heritage, I got to learning Jimmy's own "ultimate margarita" recipe. If you grab the "Boats, Beaches Bars & Ballads" box set, the booklet within has this recipe in it. What follows is pretty much that recipe, with some relatively minor changes. And I will say that it is, indeed, the finest margarita I've ever tasted.
This recipe makes either two decent-sized drinks or three smallish ones. Using a cocktail shaker, add the following in this order:
1.5 cups of ice cubes
2 shots top-shelf tequila (I recommend Jose Cuervo 1800 or Patrón Añejo)
1 shot silver tequila (I recommend Jose Cuervo Silver)
1 shot triple sec (doesn't matter — the cheapest stuff is just fine)
2 shots Key West Lime Juice (I recommend Nellie & Joe's brand)
2 splashes of Grand Marnier.
2 lime wedges (squeeze slightly into shaker before tossing both right in whole)
1-3 beach chairs
Add ingredients in that order to a cocktail shaker (minus chairs). Shake very well. Pour equal amounts into each glass, along with the ice (and limes, if they want one). Place chair in a sunny spot in your lawn, snow or living room. Repeat as needed.
Photo Credit: epicurious.com