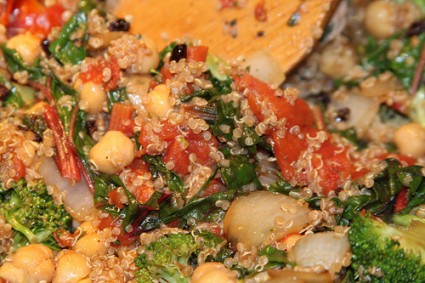 Now, if this recipe doesn't qualify as a "clean out the refrigerator meal," I don't know what does. Sometimes getting home late to a relatively empty fridge has its advantages.
I knew I wanted to use up some leftover diced tomatoes, and I also had some broccoli. We got a bit of chard from our CSA farm and I always have onions laying around. Mix all that with some pantry staples and dinner was served!
Whole cumin seeds are so, so special and this dish turned out so flavorful and satisfying.
Quinoa with chick peas, chard and currants
Ingredients:
3/4 cup dried quinoa, cooked according to directions
4 cloves garlic, minced
1 onion, chopped
3 cups broccoli florets
1 bunch chard, chopped
1 can chick peas, rinsed and drained
1.5 teaspoons dried oregano
1/2 teaspoon whole cumin seeds, given a turn or two with a mortar and pestle to release the scent
1.5 cups diced tomatoes
1/4 cup currants
12-16 ounces of sausages, grilled and sliced (I used spinach fontina chicken sausage)
feta for sprinkling
olive oil
balsamic vinegar
In a large skillet, cook onions, garlic, and broccoli over medium high heat until fragrant and tender, about 5-7 minutes. Stir in the next 6 ingredients and heat through. Remove from heat, toss in sausages, and drizzle with olive oil and balsamic vinegar. Sprinkle with feta cheese before serving.
Photo Credit: Debbie McDuffee