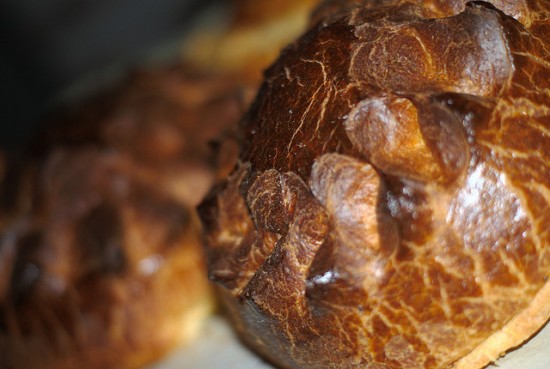 Out of all of these recipes, that brioche is the one that makes me salivate the most. The combination of goat cheese and sweet peas … pardon me while I wipe my chin….
I love the way Heidi Swanson describes this chocolate loaf cake as "unattractive." But she's a girl after my own heart … she changed up a Nigella Lawson recipe with spelt flour and Muscovado sugar. It's very few recipes for baked goods that I don't have to change up a bit, but this one I'd make as-is.
Now, this recipe for raw energy bars in another story. Does anyone have any ideas on how to make them less sugary? I get that there's no added sugar, but that's a lot of dried fruit which is basically concentrated sugar, no mater how natural. I like that it's not honey or agave or brown rice syrup, though, so I may give these a go with less fruit and see if they stick.
This simple brioche with crushed peas … I just can't stop thinking about it. Maybe it's because the peas from our CSA farm are one of the greatest things to happen to vegetables ever, or perhaps it's the goat cheese, radish, watercress, shaved Parmesan….
Really? Could a dessert really be this simple? Raw foodists, celebrate, because all you have to do for a soft-serve ice cream is whip frozen bananas in your food processor. I'm not in love with anything too banana-y, but I'm definitely willing to give this one a try.
Photo Credit: zigazou76 / Flickr