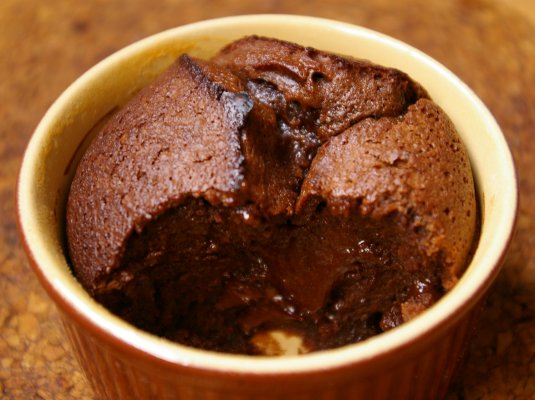 It's tough being hungry and writing about food. At least I have a varied selection of recipes to drool over. But before I go eat my lunch, let's start with dessert….
There's almost nothing better than a fallen chocolate cake and this chocolate tahini gooey cake adds a new twist or two. Not only is there tahini in the batter, which I can imagine will add a wonderful creamy texture and nutty rich taste, but she uses just a bit of millet flour and chunks of chocolate melted into the batter. Why haven't I thought of that?
I love this recipe and hate it at the same time. Although I'd love to try the wild garlic and white bean curry, I wouldn't know where to begin looking to find some of the ingredients: wild garlic leaves, fresh curry leaves, kaffir lime leaves, cilantro roots … anyone? Bueller?
Now, this bean and rice salad with Asian citrus dressing I can handle. It's the perfect side dish to serve with anything off the grill. Beans, rice, veggies and a dressing with sesame oil, soy sauce, orange and lemon sounds just about perfect.
On the surface, there's nothing special — and certainly nothing unique — about this recipe for fettucine with peas, asparagus and pancetta. It's been done before and we see it every spring in some incarnation, showing us a great way to use spring veggies. It's the ratios I like in this one … there are tons of chunks, and the focus is one the "stuff," not on the pasta. There's lots of lemon, just enough cream and fresh basil and parsley bathed in parmesan cheese.
Photo Credit: rore / Flickr