21 things to do with green beans
Green beans are so simple to prepare and since they can be made into so many dishes, why not try them all?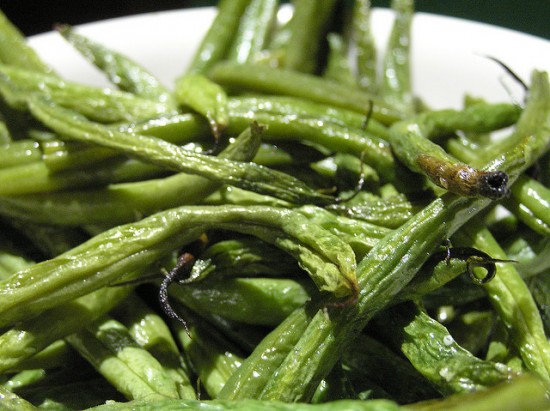 I don't know about you, but our CSA farm has us up to our eyeballs in green beans (and yellow beans … Owen thinks the yellow are better but they're all the same to me). I've been trying not to blanch and freeze them, and I'm scared to pickle or lacto-ferment them (botulism waiting to happen….), so we've been looking for ways to eat them fresh and not feel like we're eating the same beans every night.
Toss your green beans into a potato salad. Yeah, we're swimming in potatoes too.
Saute green beans with summer squash or zucchini, tomato, onion and garlic. Toss in some fresh herbs after you remove the veggies from the heat.
Lemon green bean and celery salad sounds so summery and fresh, and shallots and fresh parsley round out the flavors.
I'd eat almost anything if it had blue cheese on it, and these green beans with blue cheese and walnuts are no exception.
This Asian green bean stir fry is so easy — just dump in a bunch of stir-fry veggies and some black bean sauce and you're done.
You know it's a Paula Deen recipe because there's butter and bacon, but these fancy green beans with teriyaki sauce, honey and cashews sounds good enough to eat.
Steam green beans and toss with some lemon juice and stone ground mustard.
Steam some green beans again, and toss with some butter and salt-free seasoning blend.
Green beans with tomatoes and feta uses frozen green beans, but use your fresh ones (you could use your fresh tomatoes too) and enjoy your harvest.
Vibrant tasty green beans is basically just green beans with leeks and dill, but that can't be bad, right?
Add some green beans to a rice salad or quinoa salad.
Make a salad nicoise.
Serve steamed green beans with pesto.
Saute green beans with garlic, then toss with lemon juice and capers.
Yummy, spicy Szechuan green beans with ginger, garlic, scallions, chili paste and soy sauce uses a special cooking technique to keep the beans tender but not mushy.
Toasted almond green bean salad is so simple, but with the sesame oil and sesame seeds accenting the almonds, it's got to be wonderful.
Green beans a la Bob — just shake some crushed red pepper over them.
Toss cooked green beans with the fresh herbs of your choice, something crunchy (think nuts or seeds) and something tangy (balsamic vinegar, lemon juice, yogurt).
The answer to my fear of pickling (really a fear of canning) might just be this cheat recipe for quick pickled green beans.
Green beans with roasted nuts and cranberries has the bean, the crunch and the sweet-tart … oh yeah.
How can some of my favorite things all be combined in one green bean dish? Because someone has the brilliance to invent green beans with walnuts, fennel, and goat cheese — and they threw in mustard.
It would be fairly easy to think of 21 more things since green beans are so versatile … and delicious. What's your favorite thing to do with green beans?
Photo Credit: Laurel Fan / Flickr