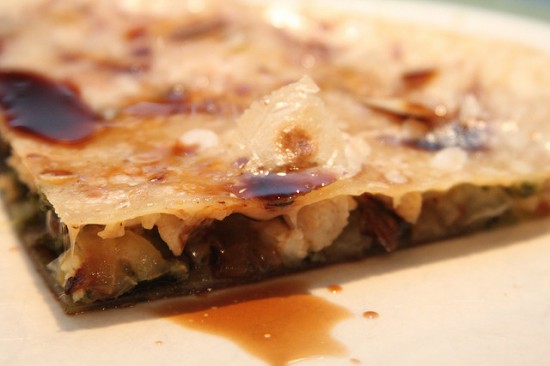 I can't tell you how delicious this recipe for honeyed prawns and polenta sounds to me. It's really a mystery to me why I haven't cooked it yet. The polenta has corn, currants, honey, butter and thyme mixed in. The prawns are marinated in honey, lemon and hot sauce (along with this and that) and then crumbled over the top of everything is feta, capers and fresh parsley. Sometimes the creative combinations in recipes just blows me away, and this is definitely one of those recipes.
Now we move on to simpler, yet still there are capers … must be my mood. Heidi Swanson's quesadillas use a technique that basically adheres and egg to the tortilla, which she stuffs with cheese and tops with lemoned yogurt. I'm certain I couldn't make anything with absolutely no vegetables in it, but I'm dying to try that egg thing. It needs some baby spinach or something, though.
Let's transition to another tortilla dish, this time steak picadillo soft tacos (I'm so impressed with my not-theme theme … just humor me). Someone please make these and tell me how good they are, because with Keith's aversion to olives, a recipe with not only olives, but the brine from the jar, is asking a bit too much of my husband to bear. I won't even let mayonnaise in the house, so I've got to show a little respect with my olive recipes. But I will say this — olives straight from the jar just aren't as much fun as when incorporated into a recipe. Almost though. On second thought, forget I said anything.
Photo Credit: Debbie McDuffee