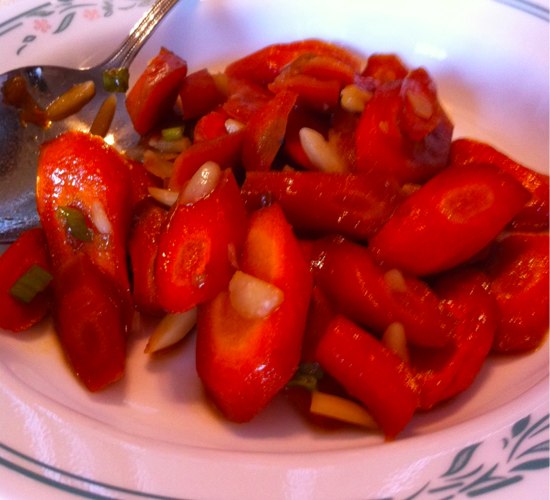 (Please … I know that top picture is horrible. Keith took it with his phone because the dish wasn't all the way cooked until we got to my in-laws. As if we would have thought ahead and brought the camera….)
Every year, we celebrate Easter dinner with Keith's parents. It's always a lovely visit: Owen gets to play with his cousins, we all get to chat with Keith's aunt and grandmother and we linger around the dining room table, wondering when the 37 people will arrive to help us eat the absurd amount of dessert that is crowding us.
This year, I was asked to bring a not-green-beans-or-potatoes-vegetable. It's really rare that I cook just carrots as a side dish; they are usually part of a stir-fry or medley. But when I asked both Keith and Owen what vegetable they would like me to make, they both said, "Carrots!" So carrots it was. I had some leftover scallions in the fridge, so I immediately thought of using soy sauce in a glaze.
There are about a million soy-glazed carrot recipes floating around the internet. Some have honey, some have ginger, all sound delicious. I wanted mine to be a bit different. I used Rachel Ray's recipe for honey-soy oven-glazed carrots to help with ratios and cooking times, then I went to town with my scallions, added some garlic for a bite and substituted agave syrup for the honey — all sprinkled with more scallions and some slivered almonds for crunch.
The best part is that these are gluten-free, since we used wheat-free tamari instead of soy sauce, and are very friendly for anyone who has issues with refined sugar. The only sugars that my son can tolerate are raw agave syrup, grade B maple syrup and palm sugar, and even those we use in very strict moderation. These carrots made everyone happy, and got rave reviews even from the folks who will eat anything (I'm looking at you, Rich).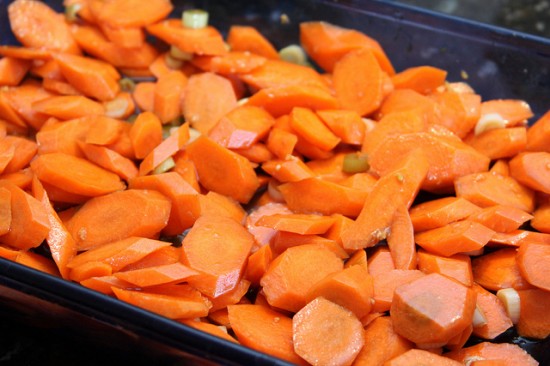 Soy-Agave Glazed Carrots

Print This Recipe
Ingredients:
about 12 carrots, peeled and cut diagonally into chunks
1/4 cup olive oil
1/4 cup agave syrup
1/4 cup tamari or soy sauce
2 cloves garlic, minced
4 scallions, sliced, with green and white parts separated
sliced or slivered almonds
Whisk together the olive oil, tamari, agave syrup and garlic. Toss with carrots and white parts of scallions. Arrange in an oven-safe pan and cook at 375 degrees for about 30 minutes, stirring every so often.
Sprinkle with green parts of scallions and slivered almonds before serving. I think sliced almonds would look prettier, but I didn't have any in the house. You could also sprinkle with chopped fresh cilantro, parsley or basil … any of those herbs would be delicious.
Photo Credit: Keith McDuffee, Debbie McDuffee