Kevin Hart fails to bring the funny to The Wedding Ringer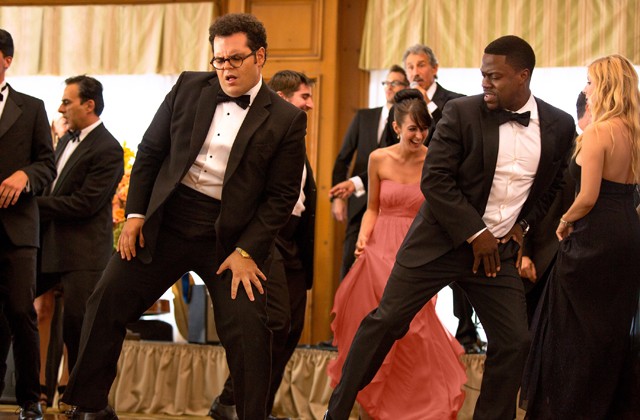 Kevin Hart and Josh Gad team up for 'The Wedding Ringer,' but you may want to think twice about accepting an invitation to this wedding.
I was not particularly impressed Kevin Hart's latest movie The Wedding Ringer. Don't get me wrong, there were funny moments but in between I was kind of bored. The premise of this movie is that a successful nerd can land the woman of his dreams and live happily ever after. He's been great at making money but he doesn't have a clue about social skills. This man has no friends. His big dilemma is how to obtain said friends when his wedding is in two weeks.
I don't know where to begin with this one
The opening scene finds Doug Harris (Josh Gad) frantically calling every guy he is acquainted with to see if they'd agree to be his Best Man. He calls and calls and calls, gets hung up on, calls some more, some don't even know him well enough to remember his name. He loses his balance and falls into his large glass desk (this was so not funny to me).
The gay wedding planner Edmundo (Ignacio Serricchio) overhears the fact that Doug is in need of fake groomsmen and gives him the name of someone who can assist him, Jimmy Callahan (Kevin Hart). Jimmy owns Best Man Inc, and helps men find "The One."
Doug follows Jimmy to a few of his wedding gigs to see how well he does. I did not like it when he went to the Jewish man's funeral. He starts cracking lame Jewish jokes and imitating Sammy Davis Jr. (so not funny!). I enjoyed the wedding party that Doug danced at. The crowd started cheering when this oversized white male started jamming to "Teach Me How to Dougy."
I find it funny that Edmundo is really not gay but he feels his business became more successful once he took on the persona of a gay man instead of being a straight Hispanic male. After taking a sit down with Doug and Jimmy, he agrees to help out. Edmundo puts an interesting twist to the song "You put the lime in the coconut and drink it all up" to "you put the weed in the coconut and light it all up." This definitely had me and the whole crowd laughing!
This is where the story is supposed to start getting funny and it does somewhat. Jimmy rounds up his rag/tag group of misfit friends to play the 7 groomsmen. I like the Asian man Endo, played by Aaron Takahashi. He is really funny. It was absolutely hilarious when he pulled out his wiener and a dog ran up and bit it and wouldn't let go. They had to rush him to the hospital.
I also liked when the wedding party got together to have brunch to get to know one another. Cloris Leachman has a cameo appearance as a crotchety old woman. She curses and repeats filthy things then accidentally catches on fire. They try to put the fire out with some of the wine that's on the table and the fire spreads. This part was "Shut the front door" hilarious.
Another funny scene was the friendly old timers/youngsters football game. The old timers are all ex-football players like Joe Namath and they crush the youngsters for a greater part of the game. The young team all end up covered in mud, but they recover and triumph in the end.
Kaley Cuoco-Sweeting plays a convincing gold digger, Gretchen Palmer. She is so tired of the losers that she has dated and decides to settle on someone who would take care of her. Doug gave this woman everything she wanted and then some. Was she marrying for the right reasons?
This movie gets an okay rating from me. I'm so glad that Hart didn't do short jokes this time around. He's a good comedian with a pinch of actor in him. Let's have him do more serious rolls then we will know if he can really act.
Photo Credit: Screen Gems