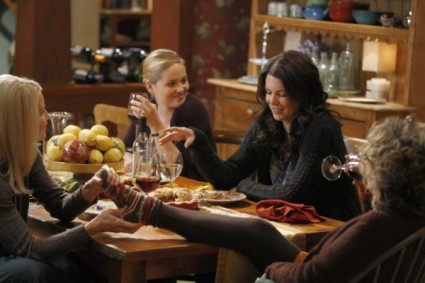 I have to admit that the one thing that drew me to Parenthood was the outstanding cast. From top to bottom, NBC has really stacked this show with big names: Peter Krause, Lauren Graham, Craig T. Nelson, and the list goes on. It's a big cast, comprising a big family. A big, and really, really close family. I come from a family of a similar size (I am the last of four children), and I consider my family very close, but I can't imagine all of us gathering for one of my nephews' little league games. That's dedication. Regardless, the closeness of the Bravermans is going to be the heart and soul of this show as it moves forward.
I enjoyed the pilot and I'm hopeful for the future of the show, but I'm not completely sold on Parenthood yet. There was a nice mix of comedy and drama in the first outing and the acting was strong, as was expected. The writing was a little heavy handed at times, but it's hard to condemn a show for that this early. With all that being said, however, I'm just not seeing the hook here. Perhaps I am a spoiled television viewer, but there should be something unique and intriguing that I can cling to in a show, and I just haven't found it in the first hour of Parenthood. I'll certainly continue to tune in for the time being, however, to see if one materializes. Maybe the characters will really become fleshed out and noteworthy, or perhaps one plotline will capture my attention. At this point, though, it's just too early to tell. It seems like nothing more than another fairly generic family drama.
There were some definite high points. I'm thrilled to see Peter Krause back on my television, and I hope that this show can be worthy of his talents. It was a little eerie at the very beginning of the pilot, watching his character go out for a run. It definitely brought up memories of Nate Fisher and Six Feet Under. It was probably not in the show's best interests to fill its viewers heads with images of one of the best family dramas in the history of television.
I've never seen Gilmore Girls, so I'm not able to comment much on Lauren Graham or her character from that show (luckily Meredith took care of that for me). I'm sure there was a lot of pressure on Graham, stepping into the show. Maura Tierney was originally cast, but had to pull out due to her battle with breast cancer. I'm not sure how much rewriting was done for the character, if any, but what I can say is that after one episode Graham has really owned the character and made it her own.
I may not be completely sold on Parenthood just yet, but I am genuinely looking forward to more. What did you think of the pilot?
Photo Credit: NBC