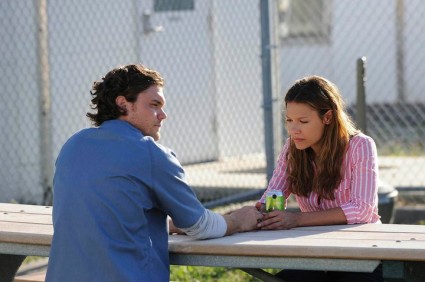 The Glades picked up where we left off  last week. Callie was full steam ahead on her plan to ask Ray for a divorce and planning to drive up to prison for the discussion. I think it was the first time I saw a genuine grin of happiness on Jim's face. There was no reservation from either of them, the decision was made.
That was a good plan, until Callie discovered Jeff cut class and took a bus to prison to see Ray. This meant we got to see the family dynamic of Callie, Ray and Jeff. Earlier in the season, when Ray called his family during a hurricane to see if they were alright, we had some indication of who he was. Now that we have seen more, it does give the impression they are worth rooting for, even though it's Jim that we all know and love. I know a little about prison, and it's very easy for someone to be their perfect version of themselves when they have so much time for introspection. It's hardly the time to push away those that you love. Only time will tell if Ray is truly on a path to redemption. Predictably, Ray told Callie that they were all that were getting him through his ordeal. Nothing like a little guilt to play on an already clouded girl's brain.
Jim was not grinning when he heard what happened, and I swear I thought he was going to cry when he realized the moment for Callie to ask Ray had passed unaccomplished. Jim started to question his own role, remembering that Callie once told him she would never be one of those women who divorced her husband in prison. Jeff really drove it home when he spoke with Jim on the phone and said it all worked out so well, because he thought his mom and dad just needed to see each other, you know? Ouch.
I am envious of the Callie character, and think she is really well written. She speaks her mind, tells Jim how she feels, lets him know he is not influencing her decision in any way – it's only hers to make. That's a fairly bold way to think, and not many women can actually pull that off. To put a character on TV that shows such strength is refreshing. Unfortunately, Jim is not that strong. He's easily swayed to think it will all go bad. So much so that he ends the episode on Heather's yacht. He keeps his phone in front of him, just in case it rings, but it doesn't stop him from unwinding with another woman. It's definitely insecurity in himself, but it would be hard for a woman like Callie to live under those circumstances. I'd also like to give kudos to the show for using the song by Lady Antebellum, "Need You Now," during the end of the episode. I don't think I could have picked a better song myself to express what they were all feeling.
Next week is the season finale, and the previews indicated that a good portion of the show will be dedicated to – you guessed it – Jim and Callie (and Heather). Thankfully we have a second season of The Glades to look forward to, because I am very invested in their quasi-romance at this point.
Click here to see the call out — Team Jim or Team Ray.
Photo Credit: A&E Television