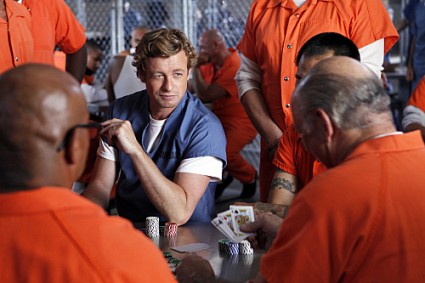 With all the excitement from the Red John stuff from last season's finale, I had completely forgotten about Van Pelt's fiance being gunned down as well … but let's get to this Red John business, shall we?
As I said in that finale review, I doubted very much that Bradley Whitford's character (who we now know was named Timothy Carter) was the one-and-only Red John. Oh, I thought maybe he was one of many, but certainly not that the Red John story was over. Look, I like Whitford's work as much as the next guy. I mean, who plays a better dick than Whitford in Revenge of the Nerds? No one, I say! But, as good of a dick as he plays, I never thought he had the kind of billing to demand he be Red John. There've been plenty of notable actors taking on bit roles in TV shows — more notable than Whitford — and they were hardly pivotal roles to the entire series.
In this episode, I was definitely taken by surprise by Carter's wife being on on his wrongdoing. Not only in on it, but participating in it! The big question now is what she knows about Red John and whether she's next to be offed. The promos for next week surprised me in that they didn't center on Ms. Carter's incarceration, being that she'll need to be guarded 24/7 so as she doesn't kill herself or another Red John disciple comes in to take care of her. Maybe she knows nothing? I doubt it.
I have to say that I'm leaning more toward Red John ultimately being more than one person — more of an association of people — and, in the end, Jane will find that there's just no end to it all. And if there is one Red John, what will it take for Jane to know that this is the real Red John? What more evidence could be brought forward?
One unpopular theory I particularly like is that Patrick Jane is Red John, and — due to having a dual personality — he doesn't know it. Something he said in this episode made me raise an eyebrow at that: "Typical psycopath behavior, inserting himself into the investigation." Say, maybe that's what Jane's doing now in his hunt for Red John?
A few other notes:
I thought for sure the lead forensics man on-site was going to be Brett Partridge, and I'd yell out a big "AH HAH!" But, alas, it was not meant to be.
You can win a million dollars that quickly in a card game? In jail? And not be killed?
I was surprised the dead security guard didn't come up in the courtroom. Or at all, really.
One solid point against Carter being Red John: If Red John killed women in their homes, why would he have the one tied up in his basement?
Photo Credit: SONJA FLEMMING/CBS