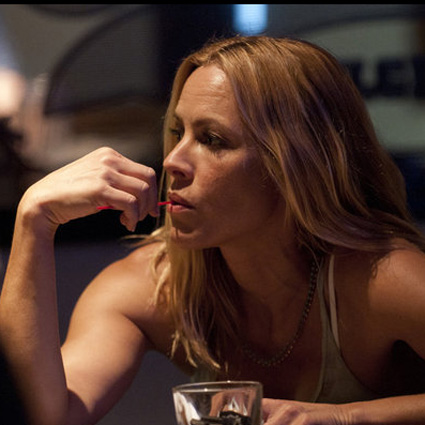 This week, NBC seemingly decided that everything we enjoyed about the original Prime Suspect (and the re-boot's last two episodes) should go. Forget Prime Suspect's (US) former originality; if you've seen one cop show with a pretty blonde female victim, you've already seen this episode.
Everything original is gone. The sexist detectives who hated Jane yet loved their jobs? Gone. The sympathetic child molester? Gone. The conflict of Jane's stable home life with her unstable position? Gone. The Jane who put aside her horror at a child molester's death to make a child feel welcome? Gone. The Jane who solved cases without fanfare but with keen observation? Gone.
Unfortunately, what we got, we didn't need. We didn't need the stereotypical African-American kid holding up the majority white bar (which proved more useless when the case went nowhere). We didn't need the unnecessary cat fight between the "pretty" detective and Timoney. Dear writers, stop pretending strong women in similar positions don't support each other. We didn't need the guys telling Timoney she has a "chip on her shoulder," because she cares about solving the case. What happened to the cops who cared about their job last week? We didn't need Prime Suspect to morph into the police version of Friends. We didn't need Timoney's glib nature at the crime scene and in interviews. What happened to Jane's compassion? We didn't need this week's Jane to heckle an assault victim. Remember when she yelled at Duffy for pulling crap to get reactions? I miss that Jane.
The producers seemingly decided that the sexism and grim reality that made Prime Suspect (UK) a success (and helped Prime Suspect  (US) survive three episodes) should disappear. But, brighter isn't better, Prime Suspect could have become NBC's new SVU.  But, this wasn't it. An annoying guitar track ran during "funny" and not-funny moments.  All of a sudden, Jane's in charge now, she solves crimes based on her gut, and the team members fist bump her. Plus, the show literally wastes time while the detectives comically test a theory. This week's glib, wise-cracking Jane is someone who would wear hat flair. And, who is so "cool" she sleeps in the office.
The show's title — and the episode itself — was trite. We didn't need the one-dimensional villain and we didn't need Jane skipping her boyfriend's kid's school play to work at her dad's bar. Technically, the show is still good; but last week broke stereotypes. In the commercials, Chase looked like a watered down version of In Plain Sight. This week's show looks like a watered down version of Chase's commercials. The writers did such a good job last week. I watched this week expecting that same level of awesome. I understand that no one wants to see sexism, scared cops, or realistic home life, but Prime Suspect did well showing society's unwanted realities. I hope it returns to that.
Photo Credit: NBC