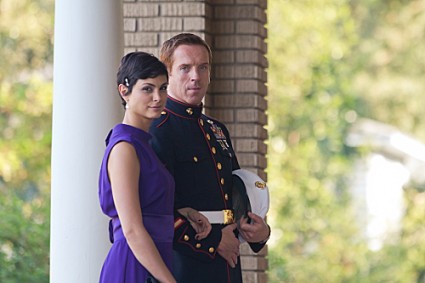 This week, we at CliqueClack are asking you to vote for your favorite new fall shows to watch and for those that you would recommend to others. The winter hiatus is the perfect time to catch up on new shows you didn't initially watch. Check out our previous write-ups for Up All Night, Revenge, and American Horror Story, now check out why Keith picked Homeland!
A funny thing happened this television season: I've gotten really, really picky with what I watch. Maybe it's that I'm just getting older. Maybe it's that, as a person who's been writing about TV for the past … gosh, over five years, seeing screener after screener of terrible shows succeed and awesome shows fail, I've grown gun shy and not eager to waste my time. Whatever the reason for my pickiness, out of the very few shows I've come to love and be unafraid to latch onto this season, Showtime's Homeland holds a place right at the top.
For those uninitiated to Homeland, I'll give you a brief synopsis. Claire Danes plays CIA agent Carrie Mathison, who has recently learned via an Iraqi prisoner that an American P.O.W. has been turned, as in turned against the U.S. by Al-Qaeda, as a sleeper agent. She doesn't think there's much to that intel until, several months later, one Nicholas Brody (Damian Lewis) — a long-missing American Marine — is discovered alive in a raided terrorist camp. Brody is quickly regarded as a war hero by all of America … except for Mathison, who believes this — along with the Iraqi prisoner's intel — is just too much to be a coincidence. Could it be that Al-Qaeda was successful in turning a hardened Marine against his own country?
Adding to the complexity of the investigation is that Carrie Mathison has a bipolar disorder that … let's just say get's in the way of her investigation from time to time. The supporting actors are highly recognizable and all play important roles in the overall plotline. There's Brody's wife Jessica, played by Morena Baccarin (Firefly, V), who has ten years of catching up to do with her newly rescued husband. There's also the great Mandy Patinkin (Criminal Minds, Dead Like Me) as Saul Berenson, the CIA's Middle-East Division Chief and Mathison's former boss and current mentor.
The mystery may appear at the surface to be somewhat run-of-the-mill, but as the season's progressed, it's been made pretty clear that's not at all the case, with evidence that's not always clear-cut. Just when things seem to start to make sense, a new twist is thrown into the mix, and you're left guessing and theorizing as to what's really going down … and what's to come.
The really good news about Homeland is that it's already been renewed for a second season, which always provides a nice, comfy feeling when considering if you're wasting your time on a new show. Every episode has had my rapt attention, and it's one of very few shows this season that I anxiously look forward to week after week. In one way I'm jealous Carla gets to review it every week, though, on the plus side for me, I get to sit back and relax for once. Actually, for a show like Homeland, "relax" isn't quite what happens. Give it a watch and you'll see.
You can vote up to

ONCE a day

for

3 shows

. The poll closes on

Sunday, 12/4 at Midnight ET

.
Photo Credit: Kent Smith/SHOWTIME