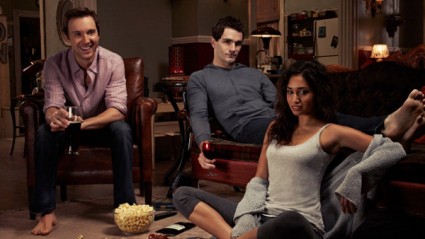 I'm nearly speechless (which is a rarity, anyone will tell you) that the UK version of Being Human was able to come back for its fourth season without two of its three roommates (George and Mitchell), as well as George's significant other, Nina. Admittedly, I haven't watched the BBC version since the middle of its second season. Although I liked it, I wasn't loving where the storylines were going (too much George and Nina drama) and Keith decided to watch the US version, so I just jumped on board that train wreck. To top all that off, Annie, the only one left of the original threesome, was always the weakest link, both character-wise (annoying!) and storyline-wise. Creator Toby Whithouse sounds confident that it will work, though, because he's always relied on the strength of the guest characters.
But in thinking about Being Human US, I cannot imagine how the show could survive without Aidan, Josh and Nora. Again, I find Sally's storyline to be the least compelling (though far more interesting than Annie's), though the reaper thingy holds some promise. I can't stand Suren and the True Blood vibe her and Aidan's storyline has become (if I wanted to watch blood-smeared vampire sex, I knew where to go, really I did). I already miss the tight bond that the roommates had in season one, and there are no strong guest characters that could support the US version of the show if three of the main four were to make their exits.
Does that speak to the strength of the main cast, or the weakness of the supporting cast? It's an interesting question. As I watch a show I enjoyed very much during its debut season descend into places I don't want to follow, it remains to be seen if it even matters. What do you think?
Photo Credit: Syfy