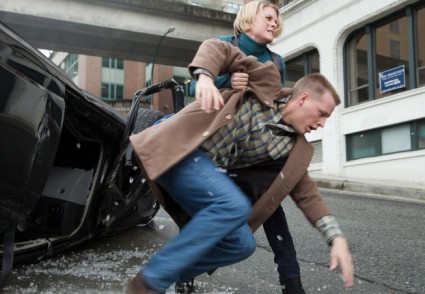 Alcatraz's first (and only?) season has come to an end. Over the last few weeks, I worried that the season would end with too many unanswered questions. Fortunately, that didn't happen.
Sure … there are lots of questions both old and new left outstanding, but it was a satisfying finale. The new questions that were introduced make me want a second season more than I did before watching. I'm especially intrigued by the masterminds and players, Warden James, the Silver Man (Matt Craven), Harlan Simmons, and even perhaps the President.
Who is the Silver Man? I don't know what else to call him because we never got his name, but he is the one who put the silver into Madsen's blood and mysteriously appeared in the vault behind the Warden's Door. How convenient of him to show up there after the door was opened?! Or, is that a clue?
The masterminds behind the 63s
While the actual leadership behind the mystery is still not entirely clear, we found out that Warden James and the Silver Man were the primary people behind the mystery at the prison. Their end game is still unclear and whether they were working for someone or just themselves. But, they had been hatching the plan for years.
The Silver Man mentioned he had been tracking Madsen since 1952. Could they have set him up for murder to get him into Alcatraz? While Madsen wasn't behind the mystery, he was their guinea pig or "advance man." In 2012, it appeared that he was still working for Warden James.
The other potential man behind the mystery (at least by 2012) is Harlan Simmons. He was working for Warden James at one point, but betrayed him. Simmons is now a very powerful, but reclusive billionaire that not even the President can easily contact. How did Simmons become rich? And, what was he doing for the warden? Ghost (Joe Limerick) was working for Simmons, but to what end?
Who has been running the prisoners who came back? Was it Madsen for the warden or Simmons? They both were looking for the keys. And, then which wants Lucy dead? Or, both?
The reveal regarding these men also answered a nagging question since the pilot: Why did Madsen kill Rebecca's partner, Will Peters? It turns out that he was on Simmons's payroll and keeping an eye on Rebecca in hopes she would lead him to Tommy. To protect Rebecca, Tommy killed him. (Yeah, but then he stabbed her? Umm … yeah.)
The new mystery surrounded these characters and their plans has me intrigued. I wish these reveals would have happened a few episodes ago and then played out with other prisoners. It would have made for a much more compelling story. The crimes being committed by the returning prisoners was becoming stale.
Lucy
Lucy was cured with Porter's silver-laden blood, but according to Beauregard the silver can't ever be removed. What will that mean for our lovable 63er, Lucy? Not all the 63s had silver in their blood, why did some but not all?
Is Lucy the key to the mystery?  She's a target, but who is after her and why? Does she know something that she doesn't realize is important? Despite being fill of silver and a target, Lucy isn't going anywhere. She was adamant that she wanted to stay with Hauser and see this mystery through.
Her admission about Hauser was sad. In the 50 years they were apart, he changed. A seemingly never-ending search for the love of your life will do that, especially when faced with criminals of all sorts.
Rebecca
Throughout the season, I've had issues with Rebecca just going along with Hauser and not demanding answers. I probably should have been sad when she flatlined, but I really wasn't. As someone who was a main character, she was boring. Even as Tommy Madsen's granddaughter, there was not much to it. That familial connection to the story should have driven her, but it never did.
I was surprised that Madsen stabbed her though. After claiming to kill Will in order to protect her, he stabbed her? That's not protecting her. Was he really protecting himself? And, what was that bit about her parents? How did her parents die?
If there is a second season and she is saved, I don't want to see the meek Rebecca of season one, I want to see a will-stop-at-nothing crusader in search of the truth. That Rebecca would be amazing to watch!
There was so much to absorb in the two hours that I'm sure I missed a bunch, but those are my initial thoughts. I enjoyed the finale and it worked as a series finale if that's what it turns out to be. There were enough answers to satisfy me. Of course, I'd really like to see a second season and I think it would be better than the first. The premise is now set up and a second season would be go time!
If the show is renewed for a second season, I'll recommend that people catch up on the show over the summer. In many ways, I can see this show improving season after season similar to what has happened with Fringe.
What did you think of the finale? Were you satisfied or did you want more answers and fewer questions? Will you be back for a second season?
Odds and Ends
"The bat cave behind the bat cave." — Diego Soto
 I loved the car chase. It was nice to actually see the San Francisco scenery on the show. The chase was a homage to Bullitt shot-by-shot.
Hauser made it clear that he was friends with Tillman, but nothing ever really came from that. Given the reveal about Warden James, was Tillman involved with Hauser's investigation before he was killed?
"They are everywhere." — This reveal opens up quite a few creative options for a second season.
Can Lucy be tracked now that she has silver in her blood?
If the prisoners can be tracked, can Hauser use that to capture them? Can they only be tracked from that room?
"What year is it?" — Silver Man, then laughs when told it is 2012.
Photo Credit: FOX