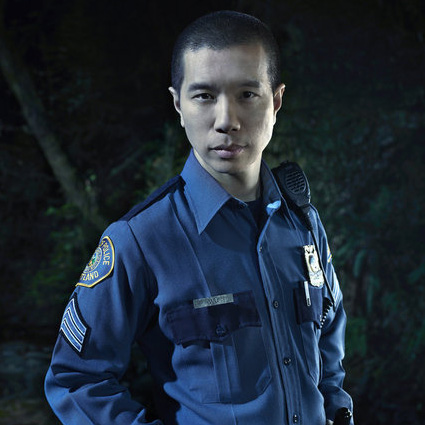 A month ago, Michael Noble, and I spoke to the amazing Reggie Lee (Persons Unknown, No Ordinary Family) who dropped spoilers for Grimm's first season and listed his hopes for the second season. Some events have already occurred, some have not. However, for the .01% who don't know, Reggie Lee plays Sgt. Wu, the wise-cracking snarkdorkable uniformed sidekick of crimefighting fairytale slayer, Nick, and his day partner, Hank, in the freshman drama, Grimm created by Stephen Carpenter, David Greenwalt, and Jim Kouf. This Friday will release the season finale.
Reggie Lee's charm as the snarktastic Seargeant Wu on NBC's Grimm made me both a fast fan of the actor and his character. I literally want to take Sgt. Wu off the shelf, put him in my pocket, and listen to him quote Wu-isms all day. In fact, when I initially saw the commercials for the film Safe, I didn't want to see it because of Jason Statham, but for Reggie Lee who co-starred as Quan Chang. Unsurprisingly, his humility and sense of humor came through during our brief chat.
Whenever I have a kickass interview, I need a couple days to come down from the contact high. This time I needed a month. An interview is like a first date. When you initially meet the person, you make small talk about the weather and where you've lived, to identify places in common. When Reggie asked Michael and I about our hometowns, I appreciated the effort and his infectious enthusiasm. When you listen to the recording, it's clear he made us laugh all throughout.
In between the laughter, Lee talked about Wu's troubles, Nick's world closing in on him and wanting to get more involved with the mythology. Wu's curiosity (which didn't kill the cat), attracted him to the show. And, although his character remains nameless, he continues to contemplate alternative first names like "Lu" or "Reggie." Did you know he initially tried out for the role of Hank, Nick's partner, but they gave it to Russell instead? Did you know they created the role of Sgt. Wu just for him and that he created the inquisitive, snarky personality based on one line? If you didn't, then clearly you need to read this interview!
The season finale will offer more questions (and, hopefully, some answers) to ongoing issues.
For the voice recording, view the embedded videos below. For a transcript excerpt, click to the next page. You can also check part one of our journey with Reggie Lee.
Photo Credit: NBC
This Post Contains Multiple Pages: 1
2