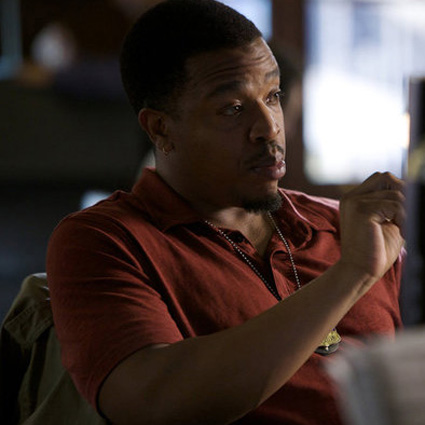 I have had a crush on Russell Hornsby since ABC Family's Lincoln Heights' first season when he played Eddie Sutton, a cop who believes moving his family OUT of the suburbs and into a restored inner city historic home will improve their quality of life. For four seasons, I watched him rock his incredibly chiseled physique as the responsible Dad fighting for his family's safety in a high-danger, high-tension area.
When I heard the producers cast Hornsby as Nick Buckhardt's charismatic partner, Hank, in the supernatural crime-fighting drama, Grimm, I was overjoyed. Although I expected to see the familiar, intensely dedicated family man, carrying the weight of neighborhood's conflicts on his shoulders, Hornsby flipped the cop script, portraying a charmingly relaxed detective a la Miami Vice, further endearing me to Hornsby's talents.
Since Grimm's October pilot, Hank Griffin, like his partner Nick, has undergone an incredible character arc. Initially, Hank represented Nick's anchor to the "real" world by solving crimes the old-fashioned way– with instinct, gut and hard work. While Nick initially appeared unhinged as he slowly discovered his gift to view the true Vesen nature, Hank remained unaffected and his collected calm contrasted with Nick's subtly erratic behavior. But, as the season finale approaches, their perspectives have switched. Nick, comfortable with his gifts and Vesen knowledge appears more confidently controlled. Yet, Hank, targeted by a Vesen witch's love spell and having encountered  multiple Vesen in their true state (without understanding why), grows increasingly unhinged. It's a subtle parallel written by the producers which both Russell Hornsby and David Giuntoli played well.
When I sat in on the conference call with the double-Rs, Russell (and Reggie), Russell mentioned his season two hopes that Hank become more involved with the mythology. And, suspects, that with his character's recent difficulties, he might undergo a more complicated character interaction with Nick and Monroe next season. When it came time for me to speak to Russell, my longstanding crush on Eddie Sutton caused me to devolve to girlish giggles. I'm not lying. I literally sounded like a 15-year-old girl talking to her celebrity crush, which, to be honest, Russell is. In between my girlish hair flipping, I also managed to ask Reggie a follow-up regarding his character's curiosity.
An: Hi. I have a question for Russell. I loved you when you were on Lincoln Heights. How does it feel to play a character who is so different from your Lincoln Heights character who was very responsible and family-oriented, versus this more player-type of detective?
Russell Hornsby: Well, this is the alter ego of Eddie Sutton.
No, actually I love it. I welcome it. I think that Hank is a little closer to Russell's sensibility I guess. I mean, this is like the me before I got married in real life maybe, where I get to just have some fun; it's sort of engaging being what I like to call real police. You know, sort of going from Father Knows Best, on Lincoln Heights, to coming into more of a real world sensibility with Grimm.
We're dealing with more procedural elements, which I appreciate. But, I also love dealing in the fantastical and the mythological aspect of the show.
And I really just enjoy playing the character and sort of discovering the joy of Hank, and having fun and having the sarcasm, the wit, and the bantering back and forth between Nick and Hank — David Giuntoli and myself. It's just a lot of fun. It's just a lot more fun.
And I don't have to deal with kids all day, which is great, because when you're doing TV shows with children — I was never one with kids-go-first — you have to wait until they get out of school and get out of class, and we have to break now for 20 minutes because they need to go finish a chapter. You know, all of that stuff.
An: My  next question is for Reggie. When I interviewed you last week with my partner, Michael Noble, you mentioned that your character was addicted. I'm intrigued by this addiction focus. How else are we going to see this play out? Are you addicted to TV or the Turkish wall hangings in your apartment?
Reggie Lee: Yes. You have paid close attention to my apartment, haven't you?
An: I have. I have.
Reggie Lee: There's tons of stuff in there that's interesting, because they really have done such a great job with that apartment.
This addiction that we talked about was pitched to me initially by David Greenwalt when we started the show, and it was part of what intrigued me about this character. And now they've deiced to parlay it in a different way into these episodes in terms of me. …
If you saw this last episode, you know I decided to steal that cookie and ate it and all these things started happening where I would eat different things. Well, you'll see in the next few episodes how much more scenery I chew up.
So from then on, I don't know … I don't have any idea how they're going to parlay this into the bigger picture of the whole addiction story. And I hope they do more of that, but we'll have to see how that plays out, because that is certainly part of my character that has been hinted to me.
So An, your guess is as good as mine, and I hope it keeps going further.
An: All right. Now I have to go back and re-watch all the previous episodes to see more of this addiction.
Reggie Lee: Yes.
An: All right. Or, I'll just wait for the DVD set, which I'm looking forward to.
Reggie Lee: So are we.
An: Oh, thank you.
Reggie Lee: Take care.
Don't forget to watch the season finale this Friday! And check out Part 1 and Part 2 of our interview with Reggie Lee!
Photo Credit: NBC