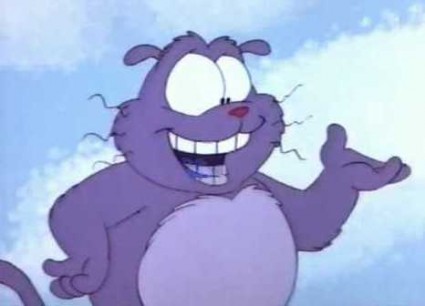 Right smack dab in the middle of the 1990's there was a little cartoon known as Eek! The Cat.
Eek, for those not in the know, was a purple cat with a heart of gold. In every episode, there were three constants you could always count on: Eek's favored exclamation ("Kumbaya!"), his emphatic motto ("It never hurts to help!") and the fact his overly-cheery attitude, often coupled with his motto, was the source of his exploits and mis-adventures.
The attraction of Eek was his innocent demeanor, but the show also showcased some boffo talents and nods to quite a few television shows and films. A case in point is "Eekpocalypse Now!" (chock-full of Apocalypse Now references and situations), a shining tribute to Francis Ford Coppola's classic:
Come on: There are lots of shows which give a bow to notable films, but attempting Apocalypse Now was a pretty haughty undertaking, handled very well by series creators Savage Steve Holland and Bill Kopp.
Season 4's "Eek Space 9″ featured classic Shatnerisms from none other than William Shatner himself (with additional brief cameos from David Duchovny and Gillian Anderson reprising their rolls as The X-Files' Fox Mulder and Dana Scully):
As noted, there were some pretty spiffy names who put together this show, Charles Adler (I Am Weasel), Dan Castellaneta (The Simpsons), Brad Garrett (Everybody Loves Raymond) and veteran Gary Owens to name a few. Many of the cameos came fast and furious as well, among them Mr. T, Phil Hartman, 'Weird Al' Yankovic, Buck Henry and Tim Curry.
The real crying shame about Eek! The Cat however is the fact that, to date, Fox Children's Productions has still not released the series on DVD. The only real "official" release is a few episodes on antiquated VHS, "Catsanova" and "Hawaii-Eek 5-0." Fortunately, many of the Eek's adventures are available on YouTube and other venues for your dining and dancing pleasure. And to that I exclaim a might "Kumbaya!"
Notes:
The first time I saw "Eekpocalypse Now!" I guffawed out loud at mention of the "Dog Doo Long Bridge" because, yes, in many ways I'm still a 10 year-old boy.
Three of the stars of Eek! The Cat were the children of the show, siblings Wendy Elizabeth and J.B. (voiced by Elizabeth Daily and the above mentioned Charles Adler, respectively) and the show's theme opening which featured a blistering guitar.

Bonus

: All episode openings ended with a comical titular ending.

Additional Bonus

: Originally created as a spin off from Eek! The Cat was The Terrible Thunderlizards, a cartoon featuring a trio of dinosaur mercenaries continually out to disperse the likes of two primitive humans, Bill and Scooter. Twisted Sister's Dee Snider wrote and performed the theme for that show and voiced the character Dee Snidersaur.
Photo Credit: Fox Children's Productions