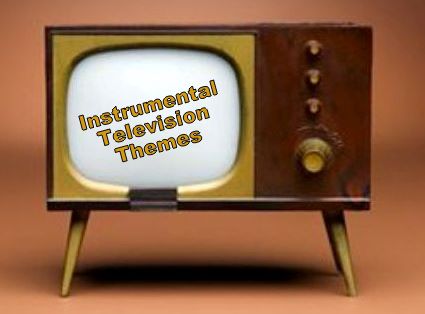 Michael: I think this week's MusiClack is a fun one. The rules of the game are simply this:Television theme songs sans words. Automatically that eliminated favorites of mine such as the campy but loveable 1960's Batman and the classic Star Trek (TOS) because of the voice over from Shatner. And I even nixed one of my all time favorites The Tick (the animated version) as it has what one might consider scatting within, still a form of verbalization, so it doesn't count by my rules. Other themes I left out were The Outer Limits, Johnny Bravo, Spider-Man (animated), The Incredible Hulk and The Sopranos. There are so many more …
Tara: I picked this one because it's so haunting and scarily freaky that I think it fits the whole premise of the show like a foot in a sock. (A dismembered foot in a bloody sock, I should say.)
Tara: I'm so dorky about television, that I can just hear the beginnings of a theme song and get excited about the show I'm about to see. That's how I felt about the Night Court theme back in the day.
Michael: I never watched Night Court. Still, I understand. I'm sure we all have those sorts of feeling about some of our favorite shows.
Tara: I know this one is an obvious pick, but I had to include it for a few personal reasons. One, because my love for Hawkeye Pierce knows no bounds. His wit and cuteness and snarky banter have been unmatched in any character on television since, I think.
Also? It's a beautiful song. It does have lyrics, that were sung in a scene only once in an early episode. But for some reason they were never included. I think that was the right choice by the producers. The lyrics are super depressing, and don't really fit the idea of the show.
Michael: It's kind of difficult not to go with this tune as a classic, iconic theme. Instantly identifiable. It's in lots of people's top themes.
Tara: In my opinion, this theme song is perfect when you take Roseanne's character into consideration. It's blustery and messy and fun. Even now looking at her, I start to hum it in my head. Immediate association.
Michael: Never watched Roseanne, but I recognized the tune.
Michael: Of all the science fiction films and shows I've watched over the years, this is one I've never seen and never had any desire to see. It just wasn't on my radar.
Tara: You missed out big time. Quantum Leap was a "never miss" for me. The opening music is awesome. If you listen closely, it has some elements that suggest adventure. And, as Sam was always leaping through time, the underscoring feeling of "discovering a new frontier" is brilliant, I think.
Michael: I proudly admit my fondness for the peppy ukelele sounds coming from the Bob's Burgers theme. It's a jaunty toe-tapper. (Side Note: If you pair this theme with Eddie Vedder's "You Belong To Me" and Israel Kamakawiwo'ole's "Over the Rainbow," you've got a whole lot of fun going on.)
Tara: Wow, your mind is all over the place. Besides. Is there even one thing that you don't like about Bob's Burgers? You're practically that show's cheerleader.
Michael: Because of Twin Peaks, I boast a hefty collection of Angelo Badalamenti and Julie Cruise music I never tire of. (Yes, I used "never.") I listen to it over and over again.
Tara: Weirdest. Theme. Ever. Gosh, I miss the Peaks. And now listening to it? Makes me want some pie as well.
Michael: My love for this score reflects directly on Mark Snow's work on The X-Files. It's moody and ominous and dark, all elements I loved about Millennium.
Tara: Never saw one episode of either one. Neat arrangement though.
Michael: The thing that instantly attracted me to the theme for Six Feet Under was its peppy, quirky structure. What is a theme about a funeral home family supposed to sound like? I certainly didn't think it would sound like this. But it's become iconic nevertheless.
Tara: Excellent pick, Michael. The theme music was just one of the many elements that came together in this series to make it one of the most amazing things that HBO has ever done.
Michael: I remember when this theme lit up the room on our old console set. It is instantly identifiable with fond childhood memories of my beginning love affair with police drama. (Side Note: On a venture to Tijuana with my folks one year, I purchased a sweater akin to Starsky's. I was the envy of my classmates.)
Little did I know until seeing credits for The X-Files that Mark Snow did some of the music for Starsky & Hutch, specifically the season 3 theme. (The guy contributed to practically every television show on the planet.)
Tara: This one I have absolutely no recognition of. But it cornily fits. I wasn't a regular viewer of Starsky and Hutch. Maybe because I'm so much younger than you.
Hey! Nobody expected a MusiClack without "a dig," did they?
Michael: You're not that much younger than me.
How about we offer our readers the following poll so they can take a vote on which of our videos they like best?
Tara: You're not going to cry when Roseanne is the winner, are you?
Michael: . . . . .
Photo Credit: nathangann.com