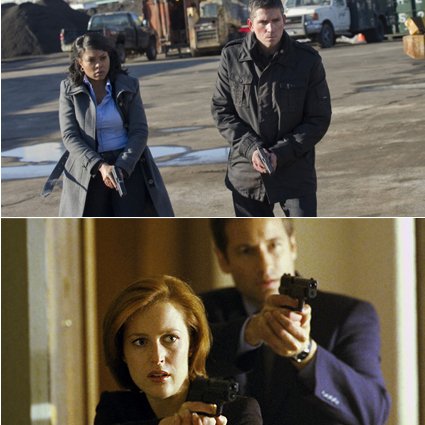 The X-Files, the 1993-2002 Fox cult fan-hit TV show surrounding shadowy government conspiracies, was one of my favorite '90s shows. Because of their enormous (albeit unintentional) chemistry, I LOVED Mulder and Scully. Person of Interest reminds me of X-Files, not just because of the distant, yet intensely loyal friendship between Reese and Carter, but everything that constituted X-Files' core appears in Person of Interest.
Think about it. X-Files' key elements included the fear of widespread government coverups; a bespectacled, seemingly distant (yet highly loyal) boss; a rogue loner agent; a respected agent hired to watch the loner; highly technical conspiracy theory addicts and informational assets; an untrustworthy former partner who seemingly never died; a creepy shadowy man pulling strings from on high; a pervasive paraonia of being watched; and, an unexpected, yet intensely close friendship between the partners.
From that summary alone, you already know how the rest of this article will play out. So, I have to ask — is Person of Interest the new X-Files?
Like X-Files, Person of Interest's core plot surrounds government conspiracy and its dogged cover up of the Machine's existence.
Like Skinner, Finch is a bespectacled, seemingly distant boss who, underneath it all, remains incredibly loyal to Reese.
Reese, like Mulder, is a rogue, isolationist agent on the outs with the agency he works for. Unlike Mulder, he's absolutely ousted. But, like Mulder, he's hella tall, rocks a shortish haircut and maintains a similar low-key speaking style.
Carter, is a highly respected, suit-wearing officer who initially tracked and reported on Reese's movements, until, like Scully, she  joins Reese's cause. Like Scully, she's the prototypical good girl. Like Scully, she has multiple academic degrees. And, in "Wolf and Cub" (and other episodes) she rocked the similar side-parted, pageboy hairstyle like Scully's.
Technically, Finch is Skinner and the Lone Gunman combined, but Fusco could also fill this role. Like the Lone Gunman he walks the outskirts of accepted society and although people mock him he provides Reese with necessary information and insight into an underworld he could not fully access without Fusco.
Cara and Krycek should create their own TV series called Betrayal. Like Krycek, Cara's practically a human cockroach who survives missile air assaults and everything in-between.
If Snow isn't the Cigarette-Smoking Man, I don't know who is. Unlike the CSM, he spends less time in the shadows, but he controls things from afar with a quiet menace. While tobacco is CSM's hardest drug, Snow gets into even harder ones. I don't believe Cara killed Snow, since we never saw his body. Like the CSM, he'll probably return when we least expect it.
Talk about paranoia. Everyone watches EVERYONE in Person of Interest, even moreso than in X-Files, especially when you include the all-seeing machine. Reese watches his colleagues; Carter watches her colleagues; Finch watches his colleagues and the Machine watches all of them.
Although Carter and Reese will probably never reach Mulder and Scully's consummated relationship level (despite the unabashed fanfic I wrote), "Wolf and Cub" came close to the four-pronged friendship I hope the show develops. I loved  the individual friendships between Carter and Fusco, Fusco and Reese, Reese and Carter, as well as Reese and Finch which played off of and intersected with each other. It's funny. When watching X-Files in the '90s I never wanted the intertwining relationships increased. But, with Person of Interest, every week I fear the characters' minor betrayals of each other will rupture their relationships and return them to opposing game corners.
So, what do you think? I know, I know. I compared the show to Burn Notice last month and others  compared it to Batman before me. Is it the earmark of a good show when everyone wants to compare it to other good shows (A-Team, etc.)? Or does Person of Interest appropriate a too-oft used template that's easy to juxtapose with others? While, yes, Person of Interest incorporates the tried and true procedural process, I believe it adds minor re-workings and plot twists which turns it into something new and different. But, like X-Files, it remains deliciously addictive.
Photo Credit: TNT, CBS, Pajiba.com