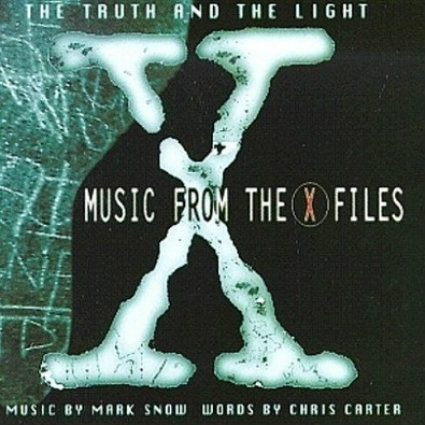 You have to hand it to the prolific Mark Snow. The man has put out a mind-boggling amount of musical product. Take a gander:
Hart to Hart. One Tree Hill. Falcon Crest. Dark Justice. The Rookies. Vega$. Cagney & Lacey. Smallville. Dynasty. Pee-wee's Playhouse. Starsky and Hutch (one of my all-time favorites.) The Love Boat. Ringer. T.J. Hooker.

Holy moley that's a lot of quality music. And I've barely scratched the surface.
Without doubt, Snow's most recognizable piece of work is the theme from The X-Files. Composed in 1993 for the iconic FOX television program, it's arguably as recognizable a piece of music as anything that's come out your boob tube speakers or sound system. There's just something about it that's always been attractive — that modulating electronic whistle, the repetitive fading echo that stirs the hairs on the nape of your neck. It's haunting. Of course, Snow's real claim to fame — along with the theme itself — is the unique fact even the casual music listener will recognize the theme, regardless of having watched the show. That, folks, is testament to the power and familiarity of this piece.
The music was requested from creator and executive producer Chris Carter who initially rejected quite a few of the ideas Snow originally submitted. Carter ended up giving him a copy of The Smiths' classic "How Soon Is Now" which turned out to be instrumental in the theme's development. The X-Files architect was taken by the sound of Smith's guitarist Johnny Marr's "mournful guitar" in the song and thought it might be inspirational. But it was singer Morrissey's whistling snippets in the tune that were ultimately expounded upon and altered for use by Snow. (You can hear the subtle whistles at 4:33 – 4:37 in the second video below.)
Add to the theme's kudos it wasn't released commercially until 1996 — where it was at the top of many international charts, a rarity for an instrumental song — and you see the mastery the tune held in its day, a power it still wields over many discernible television tracks. Almost 20 years later, the title track (and the show) still hold up very well, thank you very much, in no small part to Snow's efforts.
The X-Files Theme (full version)
"How Soon Is Now?" — The Smiths
But that wasn't Mark Snow's only blockbuster piece of music. Though he'd been on the musical map for quite some time, it didn't distract him from adding to his coffers with the theme from the equally intriguing Millennium which starred Lance Henriksen. This Snow original is equally as intriguing and distinct and it comes with its own mythology as well.
There seems to be some confusion if Snow was inspired by Kylie Minogue's "Confide In Me" — which contains hints of the Millennium theme within — or Ceilidh Minogue, a Scottish ceilidh (a traditional Gaelic social gathering) band … or perhaps something else entirely. The formative history of the Millennium theme has been lost to rumor, but there is clear indication "Confide In Me" could very well be involved in its origins.
Listen to the television version and the full theme and you'll note there are obvious differences in their productions. And I've tossed in Kylie Minogue's song for reference; you can make up your own mind if there's any weight to Snow lifting parts of it for Millennium:
Millennium Theme (short)
Millennium Theme (full)
"Confide In Me" — Kylie Minogue
The bottom line? Snow created (and continues to create) superior, outstanding tracks for television which compliment shows beautifully and resonate with fans beyond the life of the programs. If you've never believed in the power of musical scores and themes, listening to Snow's work above will certainly change your mind.
Photo Credit: greenlightmusic.com