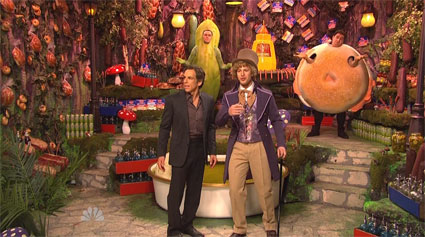 Well, it's the third episode of the new season and the writers obviously shot their wad last week with Melissa McCarthy. Things started off promising but went quickly downhill with some repetitive sketches and some bizarre commercials. The biggest letdown was the non-appearance of a rumored guest that burned up the internet all day Saturday … a "surprise" appearance by Eddie Murphy (his only appearance was in a commercial for his and Stiller's new movie). But, Hugh Jackman and Kenny G did make surprise appearances and the musical guest was pretty good. Here's a brief look at what they gave us this week, and hopefully they'll get their comedy mojo back next week for Anna Faris. Check back Sunday for the video highlights.
Cold Open: Mitt Romney Press Conference – This was pretty funny as Sudeikis' Romney faced a press corps that was more interested in hanging out with Chris Christie.
Monologue: Ben Stiller – Ben was too weak from hunger after the Jewish holiday to actually do a monologue … until Jewish Willie Wonka showed up and turned the monologue into a sketch. Wonka sang the following song to the tune of "Pure Imagination" (and I know I have one word wrong, but even the closed captioner had to pause and just put somethign in that sounded close):
Come with me, and you'll be in a world of pure imagination
Take a look, and you'll see into your imagination
There is no food I know to compare with good delicatessen
If it's bad, that's good too 'cause it's also fun complaining
If you want a Jew paradise, open up your mouth and [shoe-in]
Want some extra schmear, we'll do it
Try the number five, the Richard Lewis
There is no place I know like this Jewish food hallucination
You will find us back here on Yom Kippur next year
Commercials: Lincoln Financial — This series of commercials played at almost every commercial break with various cast members, in character, meeting future versions of themselves … and for some reason they all ended up finding out what it would be like to have sex with themselves.
Fox & Friends — This sketch would be funny … if it weren't so accurate (just check out the clips on The Soup). After the hosts talk about Occupy Wall Street, Hank Williams Jr. (Sudeikis) returns with his media rep who blames the show for letting him come on and speak for himself. The best part of the sketch are the corrections they have to make from the "first two hours" of the show. Some of the best:
A movie and a motion picture are the same thing.
There are seven continents, not one thousand.
The "West Memphis Three" is not a jazz quartet.
Presidential dog "Bo" Obama does not collect Social Security checks, nor is he an undocumented Peruvian housekeeper in disguise.
Julie Andrews is an award winning British actress. She has never been on trial for kidnapping.
President Obama did not pardon Carmen San Diego.
Herman Cain did not invent pizza.
No Transformers have ever been found on the moon.
Africa is widely considered to be the origin of the human species. It was not "discovered a handful of years ago."
The Jewish holiday just celebrated was Rosh Hashanah not Rush Hot Bananas.
Whole Foods does not provide free abortions
The Best of Both World with Hugh Jackman — A return appearance of the talk show starring the most masculine and most feminine man in the world. Abby Elliott is no Amy Poehler as Nancy Grace. Ben Stiller was Mandy Patinkin. Bill Hader was a funny Clint Eastwood: "What the hell kind of fruitcake show is this?"  In lieu of the Eddie Murphy cameo, we got … Hugh Jackman as Daniel Radcliffe! The funniest part of the sketch was the real Jackman (as Radcliffe) trying to subtly correct the misnomers presented by Andy Samberg's Jackman. And the blood.
SNL Digital Short — A battle of guys in V-Neck T-shirts. Really.
Musical Guest: Foster the People — The first song, "Pumped Up Kicks," is catchy, but a song about kids with guns is a Top 40 hit??? Kenny G showed up for the second number. I liked the band, and they seem to have a wide musical influence from Gorillaz to Haircut 100.
Weekend Update – Typical current events highlights, and Kristin Wiig introduced a new character, Nan Washingtom, a party planner who is obviously nervous about being on TV (hmm, where have we seen that before?); Stefon returns! With Zoolander! Unfortunately, Zoolander's appearance quickly crushed Stefon's hilarity.
Halloween Party – Wiig's hot and sexy … then ultimately repulsive … Shanna shows up to ruin another party. The eating of the apple bit was funny, but I'd rather see her retire Shanna and bring back Gilly if this is the best they can come up with.
Under-Underground Records — Columbus Day Assblast! And Ass Dan dies again. This bit is still funny with some of the musical group names they come up with.
Bruce Springsteen: Just the Stories — A commercial parody for a DVD collection of the stories Springsteen tells in concert between songs. Just the stories, no songs.
Tinyballs — Movie trailer spoofing Moneyball (and Melissa McCarthy's giant arms from the Meryl Sisters sketch last week make another appearance on a steroided-up Paul Brittain).

Loading ...
Photo Credit: NBC