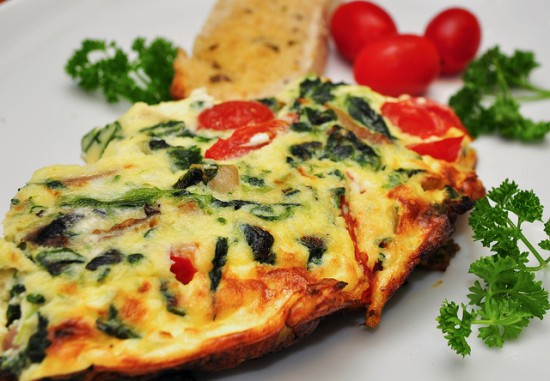 Writing this column while hungry is not an easy task. Any potential themes get tossed out the window and whatever would satisfy my appetite gets written down. Instead of a lovely brunch menu, which definitely could have happened, I ended up with this mish-mash of recipes … and I'm still hungry.
Believe it or not, our green bean harvest was so good this year that we still have a couple of bags left in the freezer. That's with about several thousand batches of my minestrone soup too! I've been looking for other things to do with the green beans, and I came across this recipe for sweet potato soup with green beans and cilantro. So simple, but a really interesting combination of flavors that I think will taste fabulous with something grilled … I'm thinking sausages or pork tenderloin.
Get a load of the cutest little gluten-free tartelettes in all the world! Zucchini, coriander, leeks and cheese stuff these egg-y babies.
I love frittatas … I love them because I can basically throw whatever I have in my fridge into them and they taste fabulous. This salmon and asparagus frittata sounds like a good one for this time of year, as the asparagus comes into season and is plentiful locally.
Is it weird that this rather unappealing crock pot recipe for a Cantonese dinner makes me want to cook it? There's nothing special in it and I don't like how a lot of meats even come out in the slow cooker, so why would I be attracted to this recipe? I'll try it, though, because the kid loves Chinese food and it sounds easy. My, how my standards have regressed as this column progresses.
Now here's another curious recipe for me, because I'm trying to stay away from excessive carbs and baked goods, yet scones come across my screen. Better yet, ginger pecan scones, with lots of crystalized ginger and butter … maybe it's time for a brunch with the frittata and scones. …
Photo Credit: jeffreyw / Flickr