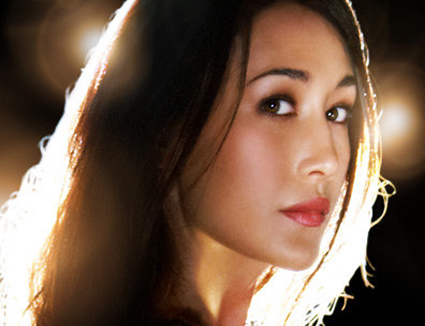 It shouldn't come as a surprise that I love uber-kickass heroines. As a hyper-wussy child unable to ride a bike, climb a tree, or catch a dodgeball, I loved Wonder Woman, Supergirl, and wore their Underoos proudly.
When the mid-90s hit with the Nikita films (and TV show) surrounding an Eliza Doolittle, assassin-style transformation, the little girl in me wanted to run out, buy a pair of heels, and hope a hot, abusive handler would force me into a covert intelligence agency. The basic premise surrounded an adolescent street tough accused of a crime and re-trained by the government to combine her killer instincts with her womanly wiles. Despite her success, she slowly regrets her activities and plots to find a life free from the government, with or without her non-agency lover. Luc Besson's La Femme Nikita (1990) started the chain reaction with Anne Parillaud, followed by the American adaptation No Way Out (1993) with Bridget Fonda, and the series seemingly ended in 2001 with the televised adaptation La Femme Nikita, using the insanely awesome Peta Wilson. The little girl in me squealed again when she heard about The CW's adaptation.
While perhaps my hopes were set too high when I watched the pilot, I recognize it for what it is: an introductory episode with both good and rough parts. Although I had planned on comparing the Nikita pilot to its most recent USA Network sibling, it looks as if the writers borrowed elements from all three versions, while starting where No Way Out ended, with the heroine leaving her lover to escape to freedom. I had always wondered if her division would let her too-knowledgeable boyfriend live. As there are parts I don't want to ruin for you (and hope that other sites will do the same), I'll highlight what worked and what didn't work.
What Worked
Maggie Q as Nikita. Yay! Finally! An Asian super-heroine. Her Nikita is seductive yet worldly, with a touch of cunning. Although I wasn't wholly impressed with her action sequences, they improved throughout the episode.
Melinda Clarke. Seriously, I heart her Amanda.
Production quality. It was nice. Plus, the cinematography featured a few nice shots such as a snowy graveside.
A good cast including Shane West (ER, Once and Again, Get Over It, A Walk to Remember) as Michael, Nikita's handler; Aaran Stanford (Traveler, X3) as Birkhoff, the techie; Lyndsy Fonseca (Desperate Housewives, Big Love, How I Met Your Mother), as well as Tiffany Hines (Cam's daughter on Bones) as Jaden, the antagonist. On paper, this is a talented bunch with impressive CVs.
The Cleaner — still an awesome badass
What Didn't Work
The writing. 80% of the time I thought Maggie Q did a great job. The 20% she didn't, she had to deal with cliched lines like "I can hit you where it hurts," or "I'm not hiding anymore."
Beverly Hills Spy 90210. Admittedly, teen drama is The CW's bread and butter. However, the amount of teenage assassins wearing neutral colored spandex reminded me too much of Dollhouse, and I felt they overdid the drama with the Mean Girl Jaden character (an antagonist without a catalyst). While they probably wrote Lyndsy's character as an underprivileged teen, the "street"-seeming double negative dialogue seemed unconvincing in her suburban-toned voice. Finally, considering the economy, I now find it hard to believe the country has enough money for a teen training facility. Do I think it could happen? Sure. But in a crappier looking building.
Shane West (Once and Again) as Michael. The erotic teacher/student relationship between Nikita and Michael served as the linchpin of all past versions. Gabriel Byrnes' Bob's unfulfilled desire for Nina? Hot. Roy Dupuis' French Canadian interpretation of Michael as frigidly distant? Sizzling. Even if he had non-forced chemistry with Nikita, Shane West's Michael is an Ed Hardy t-shirt: arrogant, douchey and totally prickish. Do you remember when he played Tom Sawyer in The League of Extraordinary Gentleman (which also featured Peta Wilson)? Yeah. That bad.
Aaron Stanford as Birkhoff. The CW borrowed this character from the USA iteration. Although they re-wrote him from Nikita's kid brother figure to an arrogant, wussy tech caricature (reminiscent of Topher in Dollhouse's pilot), it didn't work for me.
The episode felt disjointed due to its non-linear approach. I understood why they did it, but hopefully future episodes won't rely on it as much.
Their version of Roselle Park, NJ.
The trailer. It makes the show look worse than it is.
While I enjoyed the good parts, I do see where the acting, writing, and directing need more development. Hopefully the show will get more time. I loved Shane West and Aaron Stanford in the past. I know they're capable of playing those roles. I just don't know if it's the writing or directing. Although I know I'll watch it, I can't quite predict how the viewing audience will take it. Either way, the little girl in me is sated.
La Femme Nikita premieres Thursday, September 9 on The CW.
Photo Credit: The CW