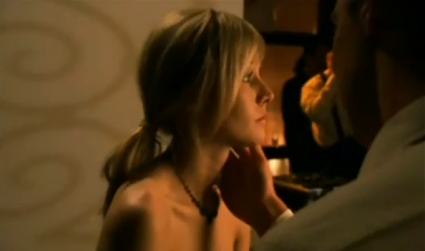 Debbie:
I can't quite let the peace and quiet of the holiday hiatus go. It's a good thing some of my shows don't come back for a few weeks yet, because I've been indulging in some comfort television of the best kind. I had high aspirations for finishing up my season one Virgin Diaries of Twin Peaks and Blood Ties, and getting into The Good Wife.
When the time came for vegging out amidst all the festivities of the week or two, I just couldn't grasp the mindset that would allow me to process new information, so I did what any Veronica Mars-loving gal would do. I've only watched five episodes of the first season, but after reliving some of the series' greatest moments during Veronica Mars week, I just couldn't stay away.
Hey, I watched Ocean's Thirteen too … I love me a good heist and Clooney and the gang didn't disappoint. I love that Burn Notice, Leverage and Human Target pick up that spirit and give us a little con action every week.
Bob:
Considering that you returned my Twin Peaks DVD set, I assume you have given up on the show. I'm not terribly surprised, but I'm a little disappointed. It's such a love of mine.
Back to the question at hand, though. What have I been watching? I discovered the beauty of the Fancast (www.fancast.com) website for Comcast customers that offers On Demand streaming, and offers more options than the standard On Demand through the cable box. It was a very exciting discovery. Through there I have checked out the first five or six episodes of True Blood. I was about to give up after the first three episodes, but our other sister urged me to stick with it a little longer. There were points in the early episodes that the show was truly, laughably bad. There was awkward music and lighting when Bill came on screen, stereotypical over-the-top characters, and some characters were just downright annoying (I'm looking at you Sookie). I've given it a few more episodes and I'm not ready to give up yet. I know you hate it because you love the books, but I hated the first book after you made me read it, and I love Alan Ball. I'll give it some more time.
I've also been catching up on the early seasons of Californication. It's not mind blowing, but it's entertaining. David Duchovny is good, and it's certainly unique. Some things work really well, others seem provocative for no reason other than shock value.
So I guess I went the opposite direction than you. Instead of revisiting old favorites, I've been checking out some shows I missed.
Debbie:
Ha! No, I haven't given up on Twin Peaks yet, but Keith thought it was time to return the set since you'd been not-so-subtly hinting that you missed it!
Admittedly, I didn't make it past the first few episodes of True Blood, though from what I hear it got better, than worse, then better again. I'm just not up for that ride. I'm still riding Veronica Mars … and I'm very seriously considering re-phrasing that.
Photo Credit: CW