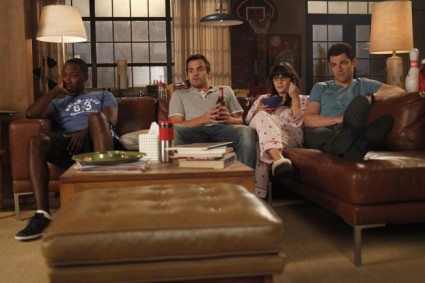 This week, we at CliqueClack are asking you to vote for your favorite new fall shows to watch and for those that you would recommend to others. The winter hiatus is the perfect time to catch up on new shows you didn't initially watch. Check out our previous write-ups for Up All Night, Revenge, American Horror Story, and Homeland, now check why Michael picked New Girl!
I have several reasons you should give New Girl a whirl:
The preview post I prattled about (Zooey Deschanel wasn't who she was made out to be in the original promo spots for the series)
The premiere of the show in which my preconceived notions about it faded in the distance (it wasn't what I expected.)
The writing (it's pretty much been top notch throughout.)
The interaction between Jess' roommates … not to mention between she and Nick and Schmidt and Winston (the banter between Jess' roommates is always a winner when it happens.)
The quotations from each and every one of the terrific cast (there are always — yes, always — quotable quotes in each New Girl episode. Oft times there are so many you just can't catch 'em all.)
Look: I'm not one for weekly comedies. I don't get The Big Bang Theory … I've tried to find the twist in 2 Broke Girls … Two and a Half Men has left me perplexed with the introduction of Walden Schmidt … and I'ven't seen an episode of Community, Parks and Recreation or any other half hour weekly to save my life. And I'm not planning on it, either.
But this show? New Girl? It's won me over very, very quickly. Yes, me … someone who doesn't go in for this kind of stuff. The guy who hasn't seen a single episode of Seinfeld. Who's never watched Cheers. M*A*S*H is the last comedy I remember watching with any real interest.
So, the way I see it? I took a huge chance signing up to review this show on CliqueClack. It was a huge chance that happened to pan out. I don't regret it one bit.
Give it a go if you haven't yet. If it can turn my curmudgeonly heart around to actually enjoy a weekly comedy, think about what it can do for you … someone who actually enjoys weekly comedies.
You can vote up to ONCE a day for 3 shows. The poll closes on Sunday, 12/4 at Midnight ET.
Photo Credit: FOX