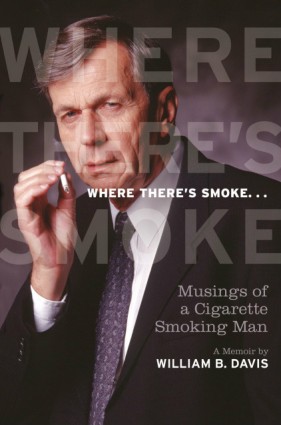 To many people, actor William B. Davis will always be known as The X-Files' infamous Cigarette-Smoking Man, perhaps the show's most memorable antagonist. It's clear that Davis has embraced that vaunted role if you take one glance at the cover and title of his recently published memoir, Where There's Smoke: Musings of a Cigarette Smoking Man.
But the Canadian actor has been around long before The X-Files and long after (it's been a decade now since the show ended!), and Mr. Davis recently phoned me all the way from France to answer a few of my questions about the man behind the enigma.
"I've had such a curious and unusual life, I guess, but certainly professional life," he said when I asked why he'd decided to put pen to paper. "People talked to me quite frequently saying, 'Maybe you should put this down. It's such a unique story.' I started as a child actor back before we were even producing television; I was acting in theater and radio drama. The X-Files and that whole phenomenon made it an unusual life. Once I started to write about it, it became fascinating."
Therein lies an interesting quirk: when one thinks of biographies, you often think of how they'll be interesting to the audience that reads them. You don't usually get the sense that writing one's life story could be just as interesting to the biographer themselves. But so it was for Mr. Davis.
"You see yourself as a character in a drama, in a way," he explained. "You see different sides of yourself. Mistakes that you made. Mistakes other people may have made. Surprisingly, I found a kind of dramatic flow to many of the episodes in my life, including the theater that I ran that ended in a fire; smoke and fire became part of my life. I wanted to write a story about me that would appeal to people who like to read about people. But I also didn't want to write a book that was a defense of my life. I wanted to write an honest look at my life."
He has certainly accomplished that, as in Where There's Smoke, he speaks frankly about both his personal and professional lives, whether it's his relationships or his feelings when working on The X-Files. This is not a vanity project, nor does he pretend that everything was always grand; this is perhaps the most blunt look at someone's life I've ever read, which is both startling and refreshing simultaneously.
What does Mr. Davis want his readers to get from such an open look at his history?
"I am imagining that people will take away different things. The book traces a whole history of acting; there are a whole lot of different angles. There will be people who will find it interesting what my philosophical take is on The X-Files, [or] the history of the theater, [or] people who will just be interested in me. There's quite a lot of social commentary. What really pleases me is quite a number of people have said it's the kind of book they couldn't put down."
Asked what kind of material he himself is most interested in, he told me, "Primarily things that have to do with people. They all have to do with people in some way, but that kind of precludes action movies and a lot of science fiction. The stories that interest me are 'Why do people do what they do?'"
While he still loves theater and film, he explained that "I've pretty much given up watching television because I can't stand commercials. And the other problem is  this whole serialization of television. I kind of say 'If I didn't see the first two or three episodes, there's no point of starting now.' That rules out an awful lot of present day television. 24 was probably the last television series that I watched faithfully," although he stopped in the second or third season.
Mr. Davis has kept acting, with more recent work including a guest spot as Whitey Doyle in the first season of FOX's Human Target, and a role in the Steve Austin movie Damage. "There's a scene at the center of [the film] that's just a debate between me and Steve Austin," he said, "It's a scene that I'm very proud of."
He also has plenty of other ambitions keeping him busy. "There's always things to do and I'm not quite sure which one it's going to be next," he admitted with a laugh. "For quite awhile, I wanted to write and direct a feature film. I might still do that. And I'm looking at quite a few book ideas. One a book on acting, and the other a novel. I'm still always directing in the theater when I can. But somewhere in there, I'd love to find a way where maybe I can have a bit more of an impact in the way the world is going to develop. I'm a great believer in public good. We have to pool our interests and resources."
Therein lies the primary reason why Mr. Davis is a remarkable individual, the type about which a book deserves to be written. He could easily have satisfied himself with his place in science-fiction history, and sat back on his laurels for the remainder of his life. Yet he is not that person. He remains interested in acting, in film, in theater, and even in using his celebrity status to make a difference in the rest of the world. He will not be quietly retired.
Of course, Mr. Davis is aware that he might always be living somewhat in the shadow of the Cigarette-Smoking Man. That doesn't bother him whatsoever.
"There are, believe it or not, people who've never seen The X-Files. My world is often divided between those who've seen it and those who haven't," he said. "It's opened a lot of doors for me. It's closed some doors. It's certainly changed an aspect of my life," he added, explaining that he met his wife through the fact that she was a fan of the series. But he continued without a second thought,  "I don't think it's changed me."
Certainly fans of The X-Files are glad that he is exactly who he is. We've long enjoyed the character that he brought to life, but the man behind the smoke is equally intriguing.
Photo Credit: PR Photos