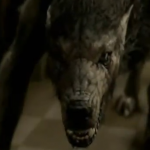 Back in the episode 5 review of Being Human, I mentioned Carla felt that particular episode Blew the Hatch, as we say here on the site. I actually thought it was close, but not quite there yet. After watching this week's offering a couple of times, I think we've finally come to a turning point in this fledgling series! Man, the latest episode was good.
Aidan's storyline got to me much more than I expected. He talked about his son in the last episode, but seeing him with Bernie made me convinced of the kind of father he was. I realized just how good of a man he was before being forced into a bloodthirsty, undead life. Sam Witwer really made me believe it too. I even had to laugh when he instinctively commented on Paul Revere being a tool; and when he started telling Bernie about his love for The Three Stooges, I had to laugh at the sheer delight in Aidan's face. I then remembered that Aidan probably became of fan of the Stooges when their movies first came out! Of course, when Aidan told him to go up and pick out one of the DVDs, I just knew the kid was going to grab the snuff film. I saw it coming a mile away, and I cringed the rest of the episode waiting for the bomb to drop.
To my relief, Bernie's mom only thought it was porn and Bernie didn't think Aidan wanted him to take it. The strange thing is, I feel like this could happen in real life; a Big Brother mentor has porn in his house that his Little Brother nabs, but the Big Brother gets accused of being a pervert. I know Bernie is in the next episode, but I wonder what will happen between these two characters. The preview made me really wonder.
Oh, and Josh had some big stuff happen too, didn't he? Seriously, how hot was his love scene? Hot. I know True Blood holds the title of sexiest vampire/werewolf show, but Josh and Nora's scene was super sexy … and almost fully clothed. That's right, you don't have to have full frontal nudity to make an awesome, raw sex scene on television! I'd even go as far as saying Josh's sex scene was way hotter than Aidan's scenes with Rebecca. Actually, after it cut to black, I kind of felt the urge to slow clap for Josh. Bravo to Sam Huntington for admitting that he was doing his actual O face.
You want to know what really made this episode? Josh in full-werewolf mode. In the first episode review, I wasn't sure about the werewolf special effects, but I thought full-wolf Josh looked great. Let's face it; even Aidan ran out of the room (with their precious TV in his arms), so we finally get to see just how dangerous werewolves are. I'm so glad Sally got to see him that way and finally understood just what a curse it is — even if it is just one night a month. My god, the sounds coming out of that man's mouth as he transformed were something out of a nightmare.
The weaker part of the episode was Sally, but I think that's because she's the weakest character of the three. I think this is more the writers' fault than actress Meaghan Rath's. Maybe it's because the character herself is in limbo, but it feels like the writers don't know what to do with her, either. I'm hoping that after what she saw in this episode, she'll stop complaining so much. Even after my frustrations with Sally, I'm liking this show more and more with every episode. I know some of you were wary of this remake from the beginning, but if this episode is any indication, we're just getting started.
Photo Credit: Syfy