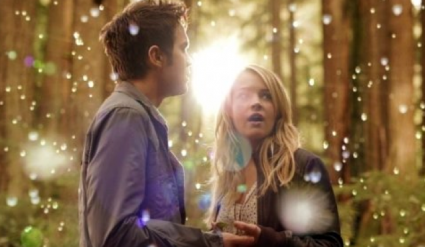 This week, we at CliqueClack are asking you to vote for your favorite new fall shows to watch and for those that you would recommend to others. The winter hiatus is the perfect time to catch up on new shows you didn't initially watch. Check out our previous write-ups for Up All Night, Revenge, American Horror Story,  Homeland, and New Girl, now check out why Ivey picked The Secret Circle!
I wouldn't be completely honest if I said that The Secret Circle is my favorite new show this year. With all of the great new television this season, like Revenge, Homeland, and Once Upon a Time premiering, this should be a pretty close poll. Especially compared to last year, when I don't think I kept watching more than one or two new shows past the first couple of episodes. When it comes to this season, The Secret Circle might not be the top of your list, but you should probably be giving it more credit than you are.
If you've not seen it, the show centers on a group of teens discovering they are all descendants of a long line of witches. Their parents' generation lost their powers after some mysterious, tragic event — but some of them are actively trying to get it back, potentially at the peril of their children. Toss in a cabal of witch hunters, and some standard high school drama, and you've got a compelling story with some very, very pretty people.
If The Secret Circle isn't on your list of favorite new shows, here are some of the reasons it should be:
Britt Robertson – Most people didn't agree with me that Life Unexpected was a completely underrated show. What most people can get behind, though, is that Lux was a breakout role for the young actress. The CW was smart enough to "request" that Circle producer Kevin Williamson cast her in the lead role (something he was already planning on doing).
With Kevin Williamson, no one is safe – In one of my early episode reviews, I talked about how, despite Williamson's penchant for killing off characters, that a certain group of people on The Secret Circle should be safe. I ate those words just a couple of weeks later. This means the show is exciting — you never know what might happen next.
Gale Harold, Ashley Crow and Natasha Henstridge – Most of the marketing for The Secret Circle focuses on the youth in the cast, but the … erm … more experienced cast members cannot be ignored. Harold and Henstridge in particular are great as the secret antagonists to the Circle's best interests (at least, we think they are antagonists, what with all the killing and all).
Chris Zylka – Technically just a recurring character at this point, I have a feeling that Zylka's Jake Armstrong will be back in Chance Harbor sooner rather than later – and back for good. In the mean time, though, he's had great chemistry with Robertson's Cassie Blake.
The story is always evolving – I don't watch Williamson's other show The Vampire Diaries, but the rumor on the street is that the story is always changing. This means that things are fast paced – questions are raised and then answered without a lot of waiting around.
Phoebe Tonkin – I wasn't sold on Tonkin until I tracked down a film she did in native Australia called Tomorrow, When the War Began. Now, I'm hooked. She was an absolute delight when I spoke with her at Comic Con, and she's played Faye, who wants to be a "bad girl" much more than she actually is, perfectly.
I know that with the popularity of some of the other shows that have premiered this year that The Secret Circle gets lost in the shuffle.  If you are not watching, you should tune back in when it returns in the new year. If nothing else, everyone needs to experience the creepy singing that accompanies the title card at least once in their life.
You can vote up to ONCE a day for 3 shows. The poll closes on Sunday, 12/4 at Midnight ET.
Photo Credit: The CW