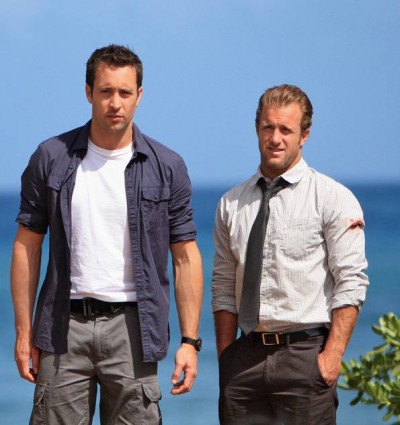 I wholly admit that I didn't watch that many new shows this week. There were very few that called to me. This is NOT the norm for me during premiere week. Any other year, I would have plotted for weeks in advance what programs to watch, created a spreadsheet, found areas where there were more programs than DVR availability … yes, television is that important to me.  There were a lot of new shows, but even their titles were so uninspired they couldn't draw me in.
I watched The Event for the hype, and it was OK. While premiere week in general was underwhelming, The Event was a bit overwhelming. The cast is huge and when you add in flashbacks, it felt like they were trying to keep your head spinning rather than tell a good story. Not to say I won't tune in again, but I don't feel confident in its staying power.
A few moments into The Whole Truth and I remembered that I never liked Maura Tierney or Rob Morrow. Despite how it went down, I am reminded how grateful I am that Lauren Graham replaced Maura on Parenthood. Maura is rather wooden, and seems incapable of emotion. Morrow does a great job of whining and standing around with his teeny mouth hanging open. Nothing good there.
$h*! My Dad Says wasn't bad. I love William Shatner and the role is perfectly suited for him. He's funny, no doubt about it. However, I read the book and a lot was lost in translation, bits I felt would have better served the plot. The show should have Henry's mother rather than bring bitchy Bonnie (Nicole Sullivan) to the canvas. Shrewish screeches were unnecessary to the plot.  But, Michael started out fresh, and found it quite good. I'll give it another try.
Even critical acclaim couldn't keep Lone Star from tumbling out of the sky. Me? I didn't tune in because I'm sick of women as men's stooges. A two-timing con man. Oooh! How exciting! I'm still awaiting a show on polygamy featuring a woman and her 15 (hot) doting husbands. Not this this was about polygamy, but it still proves just how gullible women will be to be with a man. That's all I needed to know to tune out.
There was a show about Blue people, Blue Bloods. I'm not sure how many Blue shows we need. Blue Bloods, Rookie Blue, Dark Blue. I think I get it. Policemen wear blue. Unless they're detectives, and then they wear street clothes. So, I gather these shows are about beat cops. I really don't care.
I hate to admit how much I enjoyed Hawaii Five-0. The dynamic between McGarrett and Danno was magically entertaining and found a permanent spot on my schedule, as did Hellcats. I had no idea what an Ashley Tisdale was before, and I still don't outside the context of Hellcats, but I have been suckered in. Nikita didn't do anything to refresh the franchise, and gave me a second season Dollhouse vibe.  Mike and Molly is making fun of the last group of people left without protection — fatsos! Since I already have Bonnie doing that to her large husband on $h*! My Dad Says, I'm full up on fat jokes.
Like I said, there were shows I didn't watch, and many I don't even know about. What were your favorites? Is the new season living up to your expectations, or are you wishing for the anticipation of years past? Sound off in the comments!
Photo Credit: CBS Television