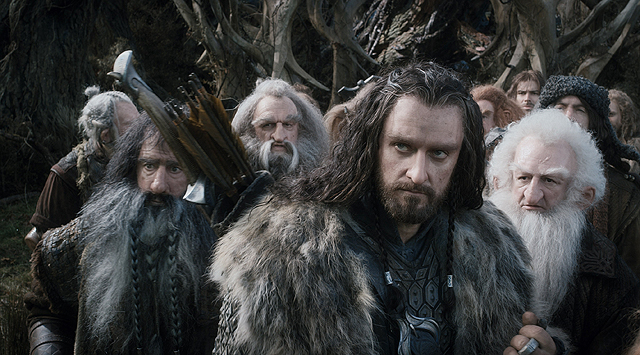 After the dreadful misstep that was 'The Hobbit: An Unexpected Journey,' Peter Jackson is back in fine form as he redeems himself with 'The Desolation of Smaug.'
I really hated The Hobbit: An Unexpected Journey. I've never read the book, so it didn't bother me that it wasn't the book, or was a mish-mash of the book and appendices and other non-Hobbit material. No, I just hated it because it was long and boring and just meandered to nowhere with battle after battle that did nothing but show off the special effects crew's CGI wizardry, and gave audiences little in the way of story or characters. I also really hated the 48 frames-per-second (HFR) projection which made the whole thing look like a really bad video production. Which also made me nauseous.
So it was with much trepidation that I went into the second film in the trilogy, The Hobbit: The Desolation of Smaug. Thankfully, we were not subjected to the HFR 3D version, but we did get to see it in 3D. Now the movie at least looks like it belongs with the original Lord of the Rings trilogy, so points were earned right at the start. And the movie grabbed me right from the beginning with a prologue set prior to the events seen in the first film, with Gandalf (Ian McKellan) meeting Thorin (Richard Armitage) and setting him about his journey to reclaim his land and his kingdom from the dragon Smaug (voiced by Benedict Cumberbatch).
Continue reading 'There's real gold in The Hobbit: The Desolation of Smaug' »
Photo Credit: Warner Brothers Pictures