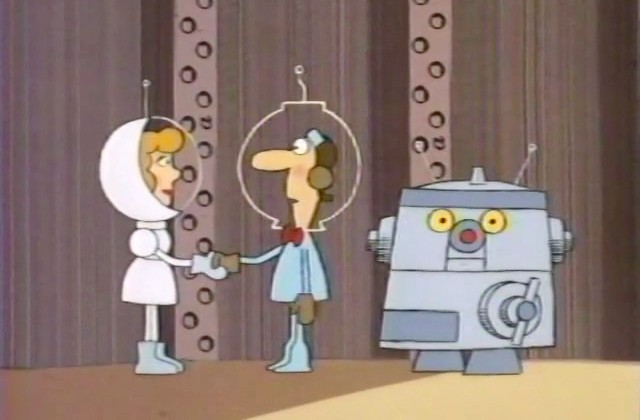 With uplifting music from Paul Anka, animation that looks like it could have been borrowed from a 'Monty Python' special, and a unique story involving a trip to outer space to retrieve a star for the top of a Christmas tree, 'George and the Christmas Star' is an obscure Christmas classic from the '80s that was ahead of its time.
December is as good as a time as any for reflection, for it signifies the ending of a year and the impending transition into a new one. It's a time when society has mandated that it's okay to wonder whatever happened to the one you let slip away or to reminisce about holiday specials from your youth. While many of you out there are reminiscing about George Bailey, Scrooge or the Island of Misfit Toys, I can't help but remember an obscure holiday special that I adored as a child because it was so different from the rest.
This movie features steampunk-looking animation like something from a Monty Python special.
Have you ever heard of George and the Christmas Star? If you're like the majority of the people I talk to, I'm betting you haven't. Featuring the ever-cheerful and uplifting music of Paul Anka and steampunk-looking animation reminiscent of a Monty Python special, this was one of my favorite Christmas movies as a child that I continue to watch every year thanks to my trusty VHS copy. It was a made-for-TV animated Christmas special from 1985 that was released on VHS by Paramount Home Video in 1986. I'm not sure when I first saw it, but I'm betting it was late '80s-early '90s. My grandparents used to buy a lot of VHS, as well as record a lot of obscure cartoons and movies for me to watch over and over after we'd rent them from our local video store.
George and the Christmas Star tells the story of a man named George who lives alone with his cat. As George prepares to decorate his home for the holidays by trimming the tree, he begins to feel as if something is missing from his seemingly dull life. (How many of us can relate? I know I can, especially this year.) He wants something spectacular to top his tree this year instead of the same-old ordinary paper star. He humorously tries to put various objects atop the tree, including a boot, a bottle of wine, a frog and a pineapple, but nothing seems to be the right fit.
Continue reading 'Throwback Thursday: George and the Christmas Star was ahead of its time' »
Photo Credit: Canadian International Studios Inc./Potterton Productions