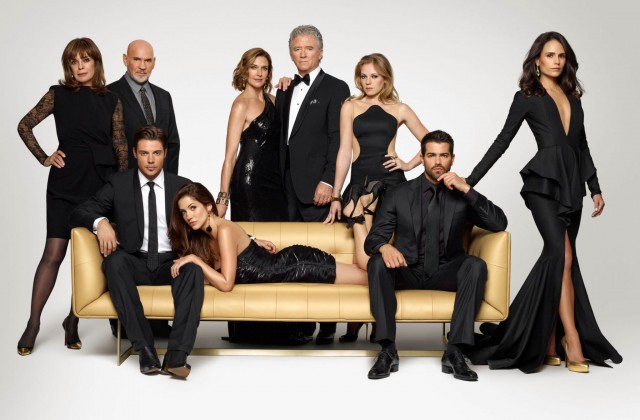 With J.R. gone, the producers of 'Dallas' are going to have to dig deep to make things interesting, but the first two episodes of season three are a step in the right direction.
It seems like it's been forever since we last saw the Ewing clan on TNT's updated version of Dallas, but apparently it's only been about 12 hours! If you've been following the show, you know that we lost TV icon Larry Hagman midway through the second season. His passing left producers scrambling to wrap up some storylines (which seem to have curtailed appearances by Ted Shackleford and Joan Van Ark, reprising their roles as Gary and Val Ewing) and create a new "Who Shot J.R." plot that actually gave us a resolution by the end of the season (his right hand man Bum shot him because J.R. was dying and he wanted to frame Cliff Barnes) that united the Ewings and put Cliff Barnes in a Mexican jail. But Cliff had a bombshell for Christopher's on again/off again girlfriend Elena — J.R. had switched deeds to the property which gave him the oil that belonged to her family.
The new season picked up 12 hours later and the biggest surprise so far is the fact that Christopher can grow a full beard in half a day! But there is more drama ahead for the Ewing, Barnes and Ramos families as Elena confirms that what Cliff told her was true (or was it?). The Ewings basically became rich by stealing her family's oil, and she's now out for revenge. The question is — do Bobby, Christopher or John Ross even have a clue to what J.R. did those many years ago? She's plotting to bring down the Ewings, who gained control of Barnes Global when Cliff was thrown in prison, by working as Cliff's proxy (he still owns a third of the company, even if it has been renamed Ewing Global), but is she going to find she's just become Cliff's pawn in his never-ending quest to destroy the Ewings?
Continue reading 'Drama, like oil, bubbles just under the surface on Dallas' »
Photo Credit: TNT